Some people are allergic to various types of foods and they always need some precautionary measures to be taken in order to avoid the attack of food allergies. There is always a need to take steps in order to keep yourself safe from the allergic food. You can take the food allergic checklist with you where-ever you go. There are some questions in the checklist which keeps you aware of the situation and the food which you are going to eat.
The food allergic checklist will never let you forget some important action which you should take before consuming any food. For example, you have been asked to read the ingredients before you start eating. The checklist will include this point in it to remind you to read the ingredients. Reading the checklist before start eating is very important. All the instructions of the checklist will be followed only if you will read it at the right time. If you are going to attend an event, try to tell the host of the event about your allergy.
The food allergic checklist is responsible for keeping the reader alert about his allergy. The allergic checklists are not same for all types of allergies, however; there are some general guidelines which are included in each checklist. There are some symptoms associated with the allergy which can make a person know about the start of the allergy beforehand and then he can take several steps to get it down.
This allergy checklist template contains all allergy types related to eating. You can enter information about 'food', date as well as the quantity of food that you have taken. The quantity of food cannot be an exact measure rather this information will be an estimate as one may not be able to measure it exactly. This measurement has been added to some medical emergency situation so that doctors may have an idea about food quantity intake. This helps the medical practitioner to treat the situation accurately. Although there are many allergy types are given in the worksheet but you can add as many as you want. For this purpose add a new column on the right and enter allergy name. Hope this template will help you a lot in the circumstances.
Preview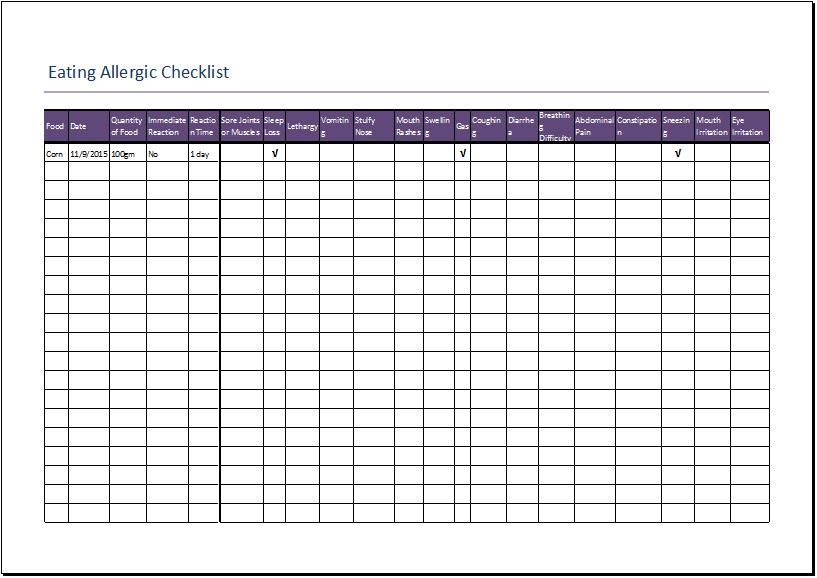 MS Excel Format: File Size: 102KB