Humans, animals, insects are not the only creatures we can find on this earth. This earth holds a lot more creatures in it. Some of which can be useful but some of which can be highly dangerous to our health. It is easier to kill an animal we can see but it is hard to think of a bacteria or a living virus growing in our surroundings without our knowledge.
Ants are one of the most common pests found in our homes. They can be found anywhere in a house but you can find them more need edibles such as sugar items or even salty food. They can bite or even sting and due to their small size, it is hard to trace them.
Bed bug is another pest living in our beds comfortable. Their main source of nutrition is human blood and they can survive for years in a bed on human blood. Ticks and fleas are also very common in households. They can bite which can lead to itching and severe allergy. There is a never ending list of the pests around us in a household. But getting rid of them is very important for human health. Pests are not only found in homes, they can be discovered in gardens, lawns, and agricultural areas as well.
Pest control services can be found easily in very borough. A pest control invoice will include the details of the company including the address and contact numbers. The contact details of the customer will also be included. The pest controller will inspect the affected area to analyze the kind of pests and accordingly use the medicines to kill them. The chemicals used and their quantity will be mentioned on the pest control invoice.
The terms & conditions and scope of work will be defined on the invoice. Payments terms will be disclosed on the invoice.
Pest control invoice includes:
Company details i.e. address, telephone numbers, email address
Chemicals used
Inspection charges
Treatment charges
Description of the service provided
Payment options
Preview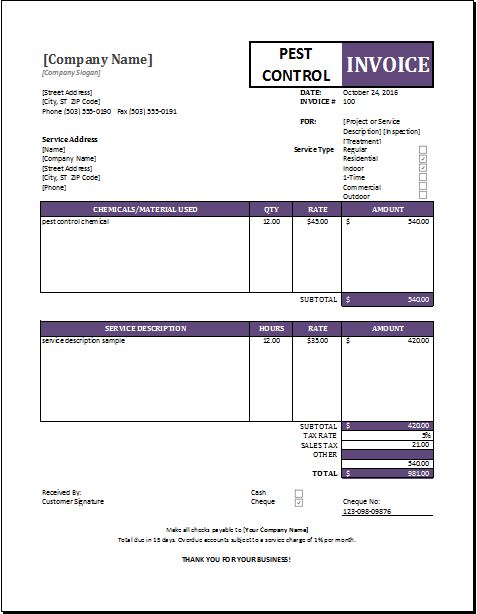 Format: MS Excel 2003 & Later | File Size: 87KB