In 1790, Thomas Wedgewood developed the first camera and was also the man behind the creation of permanent images. From there, the invention of the camera and photography started to evolve. Nowadays, photography is not treated as a mere hobby, rather a profession which people enjoy. Even people have become fully aware of the fact that not every other person can take a good photograph, only a person with the knowledge of angles and lights can be perfect to hold our moments for us.
At the age of fifty, when your face is full of wrinkles and you come across a photograph that was the last day of the university can bring immense happiness and a wave of memories back. That is the beauty of photographs. They help you capture and save your memories. Life is lived forward but beautiful backward. Our photographs help us keep all those moments alive for us even after years.
Photographs help us capture a moment. We live that moment once, but we can cherish it a thousand times by just looking at that one picture. Photographs help us see the beauty around us like nature and focus on details of our life which we ignore otherwise.
A photographer can work individually or group with a small team. Most of the photographers or even companies use three types of billing on their invoice:
Lump sum
Time plus cost
Upset limit
Every photographer should know the worth of their time. This makes it easy to set an hourly rate. A photographer might be using some products during the photo shoot. They can include these things in the invoice.
A photography invoice includes the following:
Contact details of the company/photographer
Contact details of the client
Type of services provided
Expenses incurred for the photo shoot
Quantity of the photographs
Discounts offered
Taxes applicable
Preview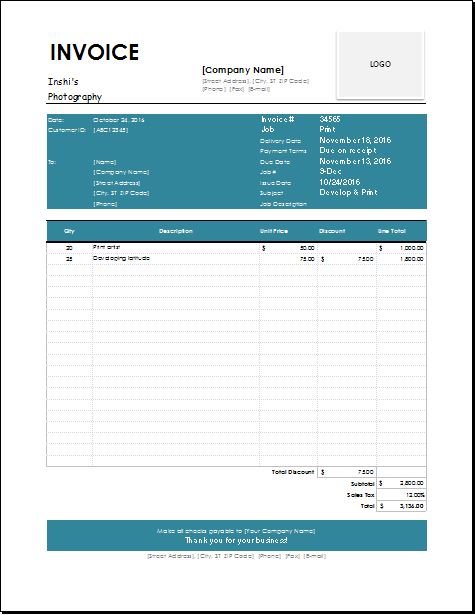 File Format: MS Excel 2003 & Later | File Size: 45KB