A creative mind can make various discoveries and innovate in a realistic way. We can fuel our creativity in various ways and one of the ways is music. Most of the scientists and innovators were fond of music which helped them to unleash their real potentials. Music has also been found to improve memorization. Music has a lot of benefits that no one can deny. Music in itself is a language learned by a lot of people and helps connect people with different cultures and languages.
Music has been accepted as a whole principle and a subject to learn. It is not considered to be a hobby anymore. Schools and colleges teach music as a subject. Music performances have become a trend these days. Musical performances build confidence in an individual and ignite hidden talents like writing musical scores and creating new lyrics for songs.
Young people would learn music and form their own bands. These bands would perform in colleges, universities, organize concerts. Music performances have become a trend in weddings, birthdays and other special occasions. People would invite their favorite band and in return pay them for their performance.
The invoice will mention the name of the service provider. It could be the band itself or it could be an agent or a small firm performing as a third party service provider. It would also include the details of the customer like the contact details.
The performance can be charged in hours as most of the musical performances last for hours. Or it could be based on events, in that case, a payment contract can be formed. The description of the performance can be provided on the invoice along with the rate charged. Bands provide additional services as well like the performance might include a DJ as well. This also needs to be mentioned on the invoice so that additional charges can be paid.
Preview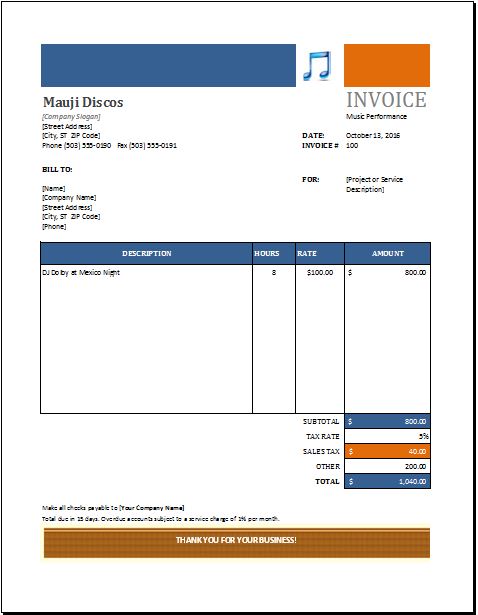 [MS Excel File Size: 48 KB]