Memo Invoice
The memo is one of the trickiest tools that have been in business for many past decades. The memo is considered as a little but the most effective tool to manage the flow of goods and cash as well. It helps managers manage the flow of cash and goods in very fine fashion. The flow of goods can be managed with the use of some other documents. But the memo is one of the most useful tools in the management of flows even in minor quantities. The smaller quantities of goods to be coming in or going out can be traced and tracked with the use of a memo. It is the single most useful tool in the management of the flow of goods. It becomes even useful when we develop it in the form of an invoice.
The process of sales and purchase is accompanied by the invoices and an invoice is used to manage the flow of cash and goods at the same time.
A memo invoice can be considered as two in one sort of document that can perform more than one task and can let you accomplish more than one job at the same time. The memo invoice can be considered as most versatile and adaptable document in the world of exchange.
The memo invoice template is developed seeing the value and worth of this stencil. One can use this stencil to carve a memo invoice in quick time. The template is supplied with all the needed stuff for memo development.
Preview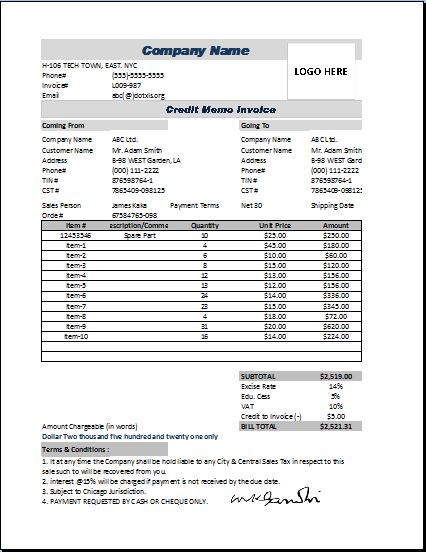 Credit Memo Invoice
Provided by: ENERGY corp.
Credit memo invoice is a unique tool for all businesses. Utilize professionally formatted invoice design and developed using Microsoft Excel software.
Download size: 47 Kb