A customer ranking tool is used by a business that is concerned about knowing where most of the profit is coming from. With the help of this tool, a business can easily learn the value of the customer. This tool is useful for people who want to determine how well they are competing with their business rivals in the same industry.
A customer ranking tool is used by businesses when they want to assess the satisfaction level of their customers. This tool actually ranks the customers on the basis of the total amount they have spent on purchasing products or services from the business. The customer who has spent most of the money is ranked first with the help of the ranking tool. In this way, the business can determine the satisfaction level of the customer.
The tool can be beneficial
As a matter of fact, the use of customer ranking tools among small and large enterprises has become very common. They try to use this tool in order to make themselves reap the maximum benefits of the tool. Some of the key benefits are
It can help the business gauge the satisfaction level of the customer
As a matter of fact, it is very crucial for every business to know about the satisfaction level of the customers. Owing to this information, the company can think of the necessary steps that it should take to increase the satisfaction level if the tool shows a low satisfaction level. Furthermore, the tool also shows the total sales of the customer to see which customer has spent what amount.
It helps a company know its gross profit
When the company comes to know about the total amount the specific customer is spending, it easily gets the information about its own cost of those products. Then the gross profit is calculated by the company by subtracting the cost of sales from total sales.
The business retains its customers
With the passage of time, a business starts losing its customers when it does not maintain its quality. The change in quality comes unawares. For example, the ranking tool shows that the customer who used to be at the top is now ranking low, and the business gets the idea that the customer has changed his mind and he no longer wants to buy products from that business. The business can then offer discounts to those customers to bring them back. In this way, a business becomes successful in retaining its customers.
Customer ranking tool template
People who want to rank their customers on the basis of their contribution to making the business earn money can use the customer ranking tool template. This tool is very useful for all those people who want to save their cost and time by using such a tool that is ready to be used and also does not require any expertise of the user.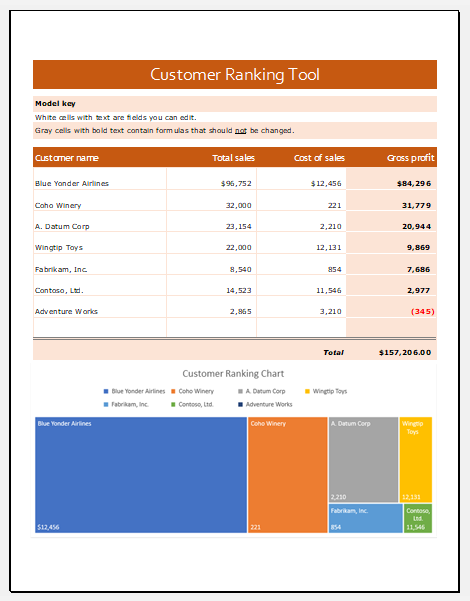 Excel File (.xlsx) Size: 45 KB
More Excel Templates