When someone wants to get a property for rent, he or she wants to ensure that the property rented is in good condition. This assurance is usually given by the landlord.
What is pre-rental property checklist?
A free rental inspection checklist is prepared to enlist all the damages and out of order aspects of the property that you are going to rent. This checklist can be prepared when you are going to sign an agreement with your landlord.
When to use the pre-rental inspection checklist?
You can use this checklist when you are going to rent your property to someone. It can also be used when you have just signed a rental agreement with your tenant. Some property owners also use this checklist just to maintain and manage their properties.
A tenant can also use it when he wants to inspect each and every aspect of the property he is going to take on rent. Since the property is going to be in the possession of someone, the landlord should also ensure that it is in good condition.
Why use the pre-rental property checklist?
The rental agreement becomes successful only when you get high-quality accommodation and best services. The tenant always wants to ensure that the property that he has rented is comfortable and he is getting what he has paid for.
A well-maintained and decorated property always attracts the people towards it and such property is always in the condition to achieve the best rental figures.
So, to keep your property in such a way that it can incline the tenants towards it, the property should be well-maintained by the landlord. The inspection checklist can be used by the landlords as well tenants while checking the condition of the house.
The template for pre-rental property checklist is available here. This template is not so exhaustive and it enables the user to add or remove the details according to his needs.
The checklist includes the list of tasks that you are required to perform before renting your property to someone. If you want to make the renting process smoother, the inspection checklist can serve the purpose.
Template Preview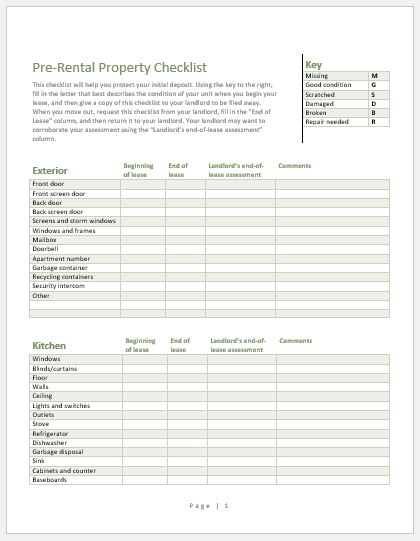 MS Word | Download