It is a form that if filled by the employee for giving to the employer when his/her job duties include travelling for the office tasks, there are many types of expenses claim form and the expenses which are claimed varies from company to company. The name of the person is on the top of the form and it also contains a space for the address, other than that the date is also written on it as the month need to be mentioned. There is a row of the date in which the employer needs to mention the date on which he/she traveled; then there is a requirement of mentioning the reason or purpose of travelling, so that the employer can know that the travelling is done for the company.
The mileage is mentioned if the person uses his/her own vehicle for travelling and the amount is required to be mentioned with it as well. If the destination is far away and the person travels through airplane, then there is a separate box for it in which the airfare amount and the money paid for the hotel expenses need to be mentioned in order to claim the amount.
As no one can live without food and the person who has traveled to any place far from the home for the accomplishment of the office related task can claim the expenses. The form also contains space for the breakfast, lunch and dinner amount entry; it is calculated in the end. In some cases, the receipts of the meals are required as a proof. The receipts of the other expenses that are linked to the company and that can be claimed also works in getting the money back, the row for the other receipts allows the employer to list them and the amount.
The expense claim form contains the logo of the company at the top to look it completely professional. The individuals in need of the expense claim form can get it from here as there are many designs of the form available from which one has the option to choose.
Preview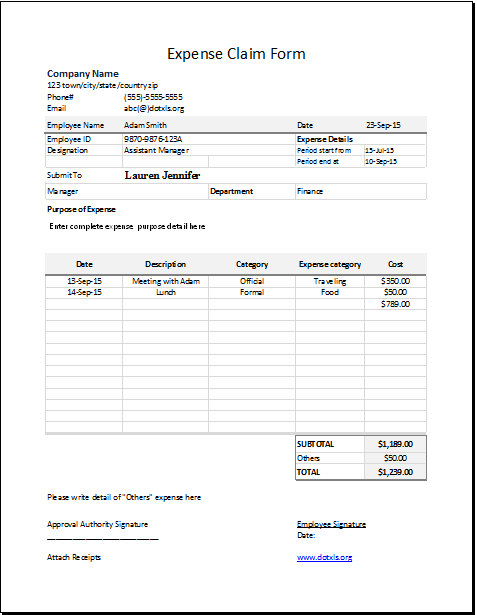 Expense Claim Form Template
File Size: 44 KB
Download Excel (.xls) File