One of the most valued employee benefits at any organization is annual leave. It consists of a certain time period granted to employees for rest and vacation. This is a paid leave for leisure. Individuals may also utilize the allotted time to tend to personal business and family commitments. The significance of annual leave is substantial for employee retention. It is also considerably important for improving work efficiency.
As a worker returns to office after a period of de-stressing, he/she feels refreshed to resume the job. Without this period of leave, there will be monotony, inefficiency and demotivation among employees. Therefore, every company sets a fixed number of days for paid annual leave. Employees can request for it at any time of the year. Their request may not be granted if they are in the middle of an ongoing project or important business sessions. However, the leave application is generally accepted under normal circumstances.
A record is then maintained for this leave. By doing so, employees are prevented from misusing this important benefit. A proper system is, therefore, established. It ensures that every worker avails paid leave once a year. No employee can exceed the fixed limit. Doing so can result in salary deductions. In this way, the system remains fair.
An employee annual leave record spreadsheet helps in keeping a track of the leaves taken by each individual worker. It is necessary for staying organized and informed. When an employee writes a leave application, the authorities refer to this spreadsheet. The recorded information is used for approval or rejection accordingly. This record may be different for temporary and permanent employees at various organizations. Similarly, employees at higher positions may enjoy a longer annual leave period than their subordinates. In all cases, the record is maintained individually for every worker.
An organization may consist of thousands of employees. The record spreadsheet proves to be very useful for storing and extracting information about every individual. There are several online templates available to create this spreadsheet. On the other hand, pre-made spreadsheets are also available. Simply download and begin using according to requirements.
Sample Preview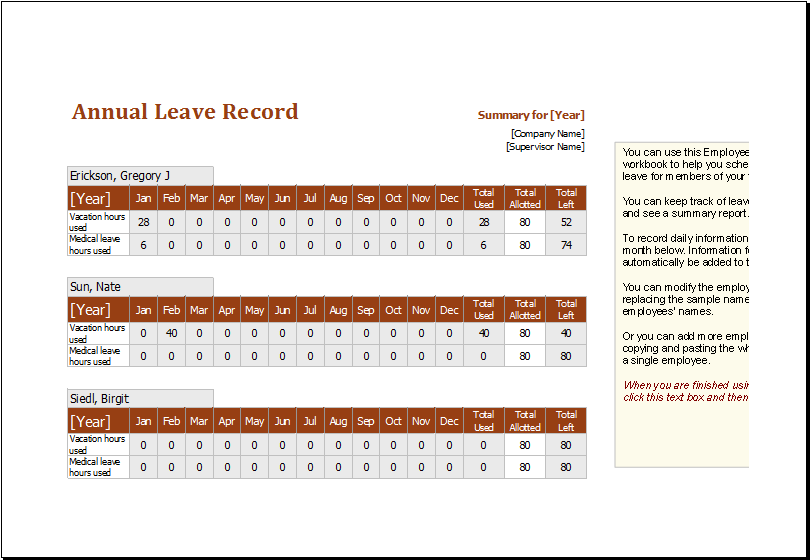 File Size: 88 KB
Download Excel (.xls)