Funding is an essential part of the project completion; large scale or even medium scale projects require proper funding or financial grant. Sometimes new startups and companies require funds to continue their working or service capability. There are financial institutions which extend this favor to different types of business ventures or projects. But these companies have set criterion and require the applicant to first fulfill them in order to qualify for the fund.
A funding proposal is a technically written document with details about the company of the applicant, their back ground and mission, the reason they started this venture, the funds they require, the population they would service, over view of other programs that they are doing. The proposal also needs to give details about any other fund they applied for or received previously.
The most important part of the proposal is explaining the need of the fund. The applicant needs to be specific about the organizational need for the applied fund. The proposal needs to detail how the fund will be effectively utilized and how progress will be ensured. The team members of the company are also listed with their given designation in the company. Finally the budget of the project is discussed in detail, a list is formulated with the name of all the expenses and the amount required making those expenses. This detail is very important as it evaluates the funds required and would most probably decide the amount of fund granted.
There are a lot of fund proposal templates available and you can select the one that fulfills your requirement and the amount of detail you want to give.
Preview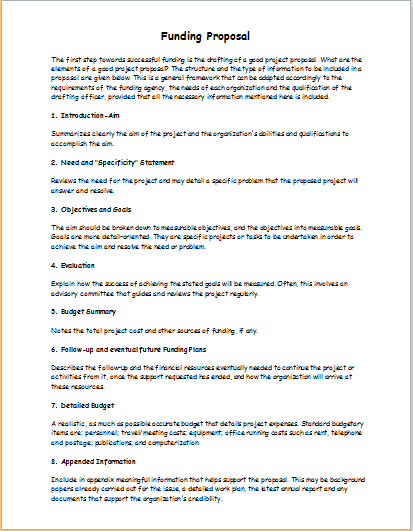 Funding Proposal Template
File Size: 36 KB
Download Word (.doc) File