Whenever a project is under way, it needs to be evaluated at regular intervals by experts. This evaluation is very important to improve and remove errors from the project. In the case of large projects, evaluation is required on every stage, for removing errors and problems at the end can be near to impossible. Experts assigned this duty to evaluate the project usually match the actual project proposal with the target achieved and then present a document or a chart listing the goals achieved and the targets not attained. This document also lists the proposed methods that can be used to achieve what was initially proposed. It is a valuable document to improve the flow of the project to achieve what was the aim of the project.
A project evaluation proposal is a chart or document used to propose the suggestions that will make the project improve while still in the development and implementation stages. The proposal compares the current situation of the project with the proposed one that was given before starting of the project.
The project evaluation proposal template is a document in which all the steps of planning, development and implementation are defined according to the initial proposal of the project. Using this document the evaluation team can judge whether the proposal is being followed or not and what are the risks. The proposal also gives suggestions to improve the different phases of the project so that it fulfills the project targets.
The project evaluation proposal template is a document that serves all these purposes following the professional layout. A sample template has been given here to assist people in what is described above. Hope this helps!
Preview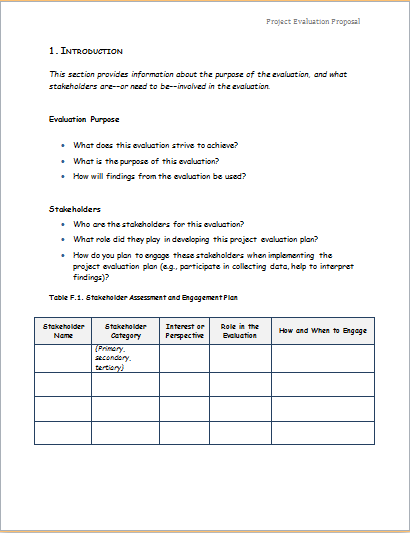 Project Evaluation Proposal Template
File Size: 88 KB
Download Word (.doc) 2003+