A medical report can be defined as the findings of a doctor related to a patient. A medical report includes everything that has been tested and found out about a patient's medical health and describes each and every aspect in detail.
This medical report is issued by the doctor or by the medical officer that has been looking after the patient. This report can include the findings, the test results along with any recommendations or treatments that the doctor or the medical officer has advised the patient to undergo. This is for documentation purposes for both the patient and the hospital.
When drafting a medical report it should be taken into account that this report is very important to the patient and to the hospital, and it should be written in a detailed manner otherwise it serves no purpose. It should also be organized and a neat one by using various headings and subheadings and highlighting anything which is of importance.
Since the medical report is a professional one, use of colored fonts or fonts that aren't professional shouldn't be used. It is best if Times New Roman or Calibri be used since it reflects a professional demeanor. The report can include the logo of the hospital as well. Apart from the writing aspect, the presentation of the report is equally important. Make sure it is presented in a file and is made using quality materials.
Following is given a sample of medical report layout. One can use this layout to create a wonderful medical report for personal or professional use.
Preview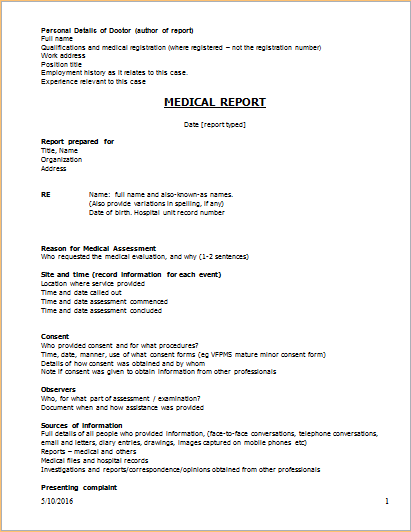 Medical Report Template
File Size: 45 KB
Download Word (.doc) 2003+