To know that worth of an employee for an organization or on an individual level, an organization makes use of employee appraisal. Employee appraisal is the process where a company conducts activities that provide a holistic view of the worth and value of the employee and how well is the employee performing in the organization and in his or her given task. To document the employee appraisal process, an organization asks the relevant individuals to make an employee appraisal report.
This report follows a general pattern and many companies have their own employee appraisal report template in order to make more reports for the numerous employees they have apprised. This report consists of various aspects such as details about the employee and his/her responsibilities and then mentioning whether or not the employee was successful in fulfilling these requirements or not.
This report also mentions the performance standard of the organization and whether the employee was able to comply with these standards or not. This report also states if the organization is benefiting from a particular employee or not. This employee appraisal report is fundamental in many aspects such as compensation, performance managements, and basic human resource practices and in training/development.
In many organizations employee appraisals are done on an annual basis, usually at the end of the financial year, but there are few exceptions to the rule. These exceptions apply where the organization has hired employees on a probationary period of a few months and needs to be appraised in order to be promoted or etc.
Preview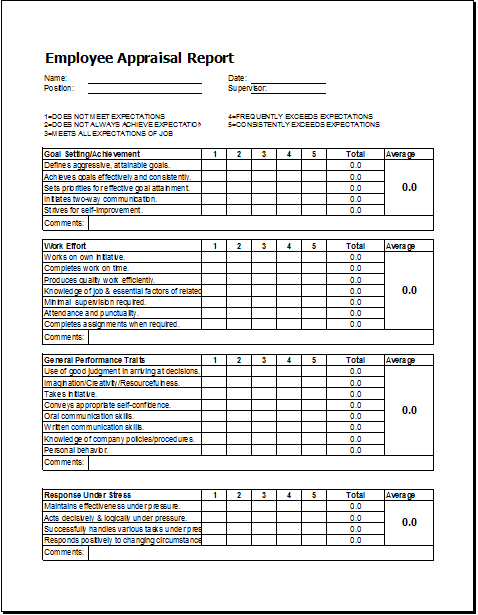 Employee Appraisal Report Template
File Size: 40 KB
Download Excel (.xls) 2003+