An event management company is a company that organizes and caters for any event. The event can be personal, social or professional; their job is to ensure that all the requisites to make the event successful are fulfilled. An event management company takes a burden away from its clients in every aspect; right from the venue booking, to decoration, to eatables and giveaways. In case of professional meetings, seminars and workshops, all the required equipment and refreshments and proper seating, all is looked after by an event management company.
An event management company gets attention of possible clients by introducing itself, its services and success stories through a document called the event proposal. An event proposal enables the company to pitch its ideas and terms regarding a future event in a defined and comprehensible manner.
The detail required in the proposal depends upon the scale on which the event occurs and the involvement of the company. This event proposal explains how you would manage and handle the event, how and what amount of budget will you require. What will be the payment milestones and how will they be handled. All the aspects of the event are proposed in the proposal for further discussion.
The list of previous successful events and testimonials of clients can also be included to gain confidence of the new clients. Additional terms and conditions and company policy regarding different aspects of this service are also mentioned in detail in the event proposal. There are a number of different templates available, you can choose from them according to the type of event you are writing the proposal from.
Preview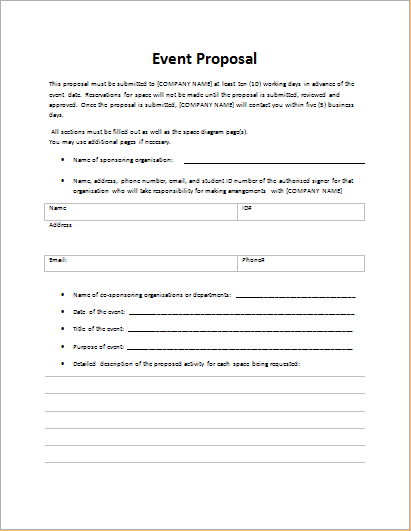 Event Proposal Template
File Size: 60 KB
Download Word (.doc) 2003+