You're doomed if you fail to write a proper apology to your clients for the wrong done from your side. Customers are valuable. Aren't they? They are the ones because of whom your business runs. When these valuable customers start having complaints, know that you need to be very careful now with your business.
We make mistakes in daily life so do we make them in business. But the mistakes made in professional life are considered much graver than those done in personal life as they affect many people. And when these mistakes are made in providing services, the matter may go worse than imagined.
What was the last time that you had a bad laundry service and your complaint was ignored? How does it feel to spend money but it turns out to be futile spending: Annoying, infact very annoying? This is why apology letters are an essential element of the professional sphere because they help reduce the client's anger who is, I remind you your valuable asset.
The essentials of an apology letter are…
Companies and service providers encounter complaints often. In order to instantly respond to those complaints, there should be instant use of standard apology letters. The essentials of an apology letter are:
Begin with a personalized style. Call the customer's name instead of saying "dear customer".
Writer about the complaint telling that you received their complaint about poor services and how their complaint matters to you.
Pay a humble apology to your client accepting your or your employee's fault.
Tell them how you can compensate for their loss. For example; in the case of bad laundry services, you may offer them free laundry or pay back their money.
Be clear that apology letters are apology letters. Stick to apology and don't try to prove yourself right. Even if you think your customer is making an undue complaint, apologies anyway.
If you're looking to send an apology letter to your client for bad laundry services, we may help you in finding some standardized professional letters. Though we do know not what your customer actually experienced, below are some modifiable apology letters. You may edit the notes according to your requirement and use this collection of instant to use apology letters.
Sample Letter #1
Re. Apology for Poor Laundry Service Provided on [Date]
Dear Client,
This letter is written on behalf of the client coordinator of [name the laundry service] who looks into the problems that occurred in the delivery of laundry service on [date]. Due to technical issues, our laundry service system got stuck and caused many problems in the delivery of quality service. We sincerely apologize for the inconvenience this problem caused you. This letter tends to explain the cause and apologize for the case.
On [date], our laundry system got stuck and it started reversing the systematic cleaning which caused the coloring of colorless clothes in the machines. It spread stains of different colors on different clothes. However, the fault in the system was readily found and we protected against further coloration and discoloration in the clothes. We had to shut down the system for more than two days which further caused a delay in the delivery of service.
We have been providing laundry services to you for more than [X] years and there had never been an issue like this before. We have always provided careful quality services to you on each visit. We have been providing service to many other businesses as well with whom we work as partners. It means to inform you that our system of laundry service is well-known and reliable. We have hundreds of client companies and people who rely on our worthy services.
However, to compensate for the problem and inconvenience caused to you, we want to provide you with one free laundry service which shows our deepest concern for the problem and irritation caused to you. We hope that this gesture of compensation shall demonstrate our commitment and professionalism at work. We value our clients and always try to cooperate with them in each way possible.
Please do not hesitate if you have any more concerns with our services, we would love to take your suggestion and look into your opinions. Thank you.
Regards,
[Name of the Laundry Service]
[Signature]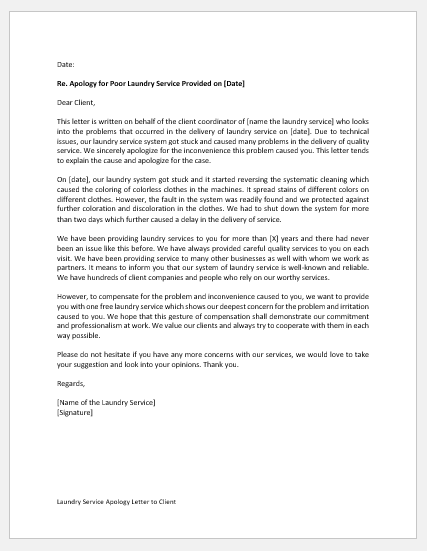 #2
Re. Apology for Hindrance in the Smooth Delivery of Laundry Services
Dear Mr. /Ms. [Name],
With reference to the mentioned subject, this letter seeks your apology for the inconvenience caused by the issue in the delivery of laundry services on our end. We are sincerely ashamed and concerned about the problem and the frustration it has caused.
We have been providing laundry service to many other businesses and individual clients but such a thing has never happened. We have been investigating the issues since the day you reported it to our customer care. One of our representatives has been assigned the task of looking into the problem. A show-cause letter has been sent to our sales department and they will submit a cause for the delay and hindrance in the delivery of laundry services soon which will be shared with you soon.
We sincerely want you to open up and let us know how we can regain your trust. We respect the business we have been doing with you and never want to lose our valued clients. We are looking into ways by which we can improve our delivery service and make this problem an end to all problems for the future. We want your suggestions on how we can improve our quality of service and what you expect from us.
We would do as much compensation as we could to come up to your expectations and to minimize the frustration caused to you. We hope you will keep working with us at the same pace. We would love to hear from you as soon as possible.
Thank you for choosing [Name of the laundry service].
Regards,
[Laundry Service Name]
[Authorized Signature]