You're doomed if you fail to write a proper apology to your clients for the wrong done from your side. Customers are valuable. Aren't they? They are the ones because of whom your business runs. When these valuable customers start having complaints, know that you need to be very careful now with your business. We make mistakes in daily life so do we make in business. But the mistakes made in professional life are considered much graver than those done in personal life as they affect many people. And when these mistakes are made in providing services, the matter may go worse than imagined.
What was the last time that you had a bad laundry service and your complaint was ignored? How does it feel like to spend money but it turns out to be a futile spending: Annoying, infact very annoying? This is why apology letters are an essential element of the professional sphere because they help reduce the client's anger who is, I remind you your valuable asset.
Companies and service providers encounter complaints often. In order to instantly respond to those complaints, there should be instant to use standard apology letters. The essentials of an apology letter are;
Begin with a personalized style. Call the customer's name instead of saying "dear customer".
Writer about the complaint telling that you received their complaint about poor services and how their complaint matters for you.
Pay a humble apology to your client accepting your or your employee's fault.
Tell how you can compensate for their loss. For example; in the case of bad laundry services, you may offer them a free laundry or pay back their money.
Be clear that apology letters are apology letters. Stick to apology and don't try to prove yourself right. Even if you think your customer is making an undue complaint, apologies anyway.
If you're looking to send an apology letter to your client for bad laundry services, we may help you in finding some standardized professional letters. Though we know not what your customer actually experienced, below are some modifiable apology letters. You may edit the notes according to your requirement and use this collection of instant to use apology letters.
Preview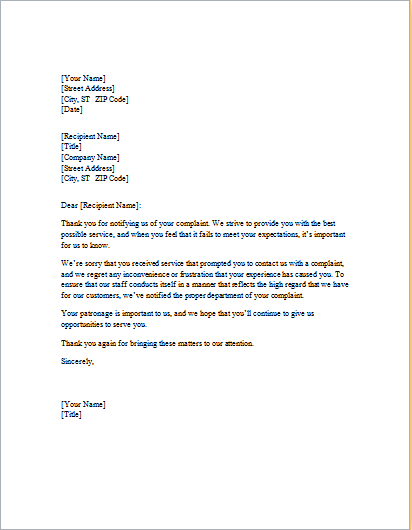 File Size: 32 KB
Download Word (.doc)