Calendar and Schedules
Just as the New Year began we start looking for some calendar to mark our schedules and important days. To set major tasks to complete on particular dates is a need of modern life. We may need calendars to encircle those days to attend some important events. It can be made to wish someone for one's anniversary, birthday or any other important event. Calendars are very important in the lives of people these days. Students need calendars to mark days to prepare and submit their important assignments.
Professionals need to mark important days for meetings or projects demonstrations. A family may need to highlight to attend important social gatherings or ceremonies. A businessman needs a calendar to put on his/her table so that he can make sure everything is going on schedule related to his/her business. We need calendars to perform our tasks accordingly and to make sure nothing important is going to be missed.
Here we have Any Year Monthly Calendar Template that serves the purpose in a beautiful way. This colorful calendar template is designed using MS Excel. You can fully customize it according to your requirement. It can all be edit from months to a year, starting day of the week to the color scheme. The template consists of twelve sheets with calendars for each month. Students would love to use this template as its color scheme is beautiful and attractive. Women will be a bigger party to like, support and use of this template because of its layout. Families can use it to gift their loved ones at the time of New Year. Kids can print and paste it on their notebooks to mark some events they like. For every month some space is provided at the bottom for any important notes.
The template is useful in terms of one month calendar as well as for the whole year. All twelve months calendar is prepared and in a ready-to-use format. Either you can print all at once or just the upcoming month. The choice is all yours. We are adding below some previews of the template that will give you an idea of how it looks.
---
Preview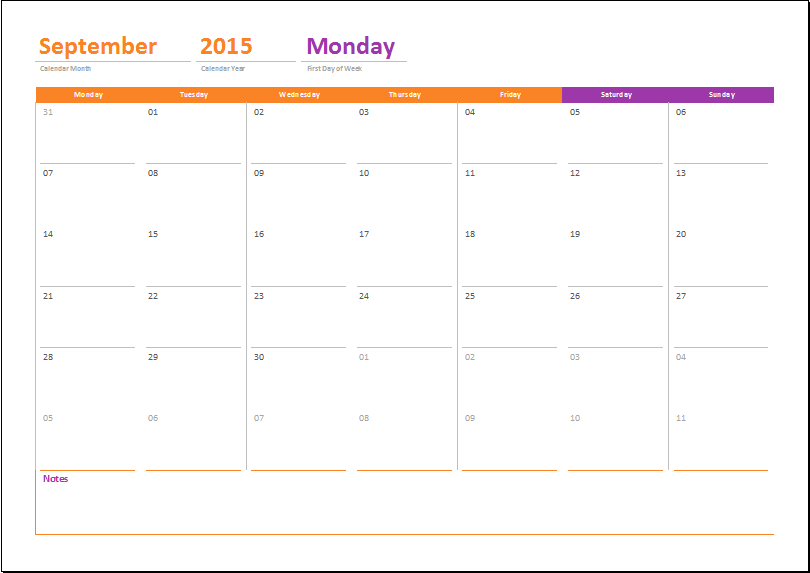 Monthly Calendar [Any Year]
Provided by: ENERGY corp.
File Format: Microsoft Excel | Printable | Editable |
Download size: 1426 Kb