Your business is expanding and so are your activities. Now, you need more employees. You know the job market is bad and there are a lot of people seeking jobs. But at the same time, employers know that finding the best resource can be a real challenge.
So, what are the best ways to advertise your job? You will contact recruiters, apply on various online portals and spread the word around. And now, either you end up in various resumes which you do not require or you do not get a single resume. Hence proved, finding a new employee can be hectic and frustrating as well.
Not just very effort taking activity, hiring employees can be expensive as well. Advertising on mediums such as newspaper or even internet can cost a lot. Recruitment companies can also help you with hiring employees. But, again they come very expensively. If we ignore the cost part of hiring an employee, companies are in dire need of employees who are honest with their work. Can you imagine hiring an employee who would steal or slack in work?
To avoid all these problems, the most appropriate way to hire employees is by referrals. Yes, this option works both ways. People are getting a job these days because of the network. They would ask their friend if they have a vacancy in their company and forward their resume. Similarly, the employers would directly communicate it to their employees that they are looking for new hires. This method can reduce risks to quite a lot. Firstly, you don't have to advertise at all. So, that means you are saving your money.
Secondly, as this new hire is recommended by one of your employees, high chances are that he will be a safe employee as he is already known by someone. So, this reduces the stakes by quite a lot. For this reason, the companies maintain employee referrals form. All you must do is, fill in the details of the employees. Hand, it back to your employer and then the employer will take the process from there.
Preview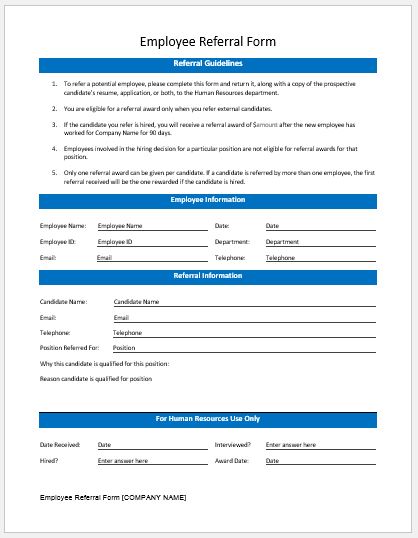 MS Word | Download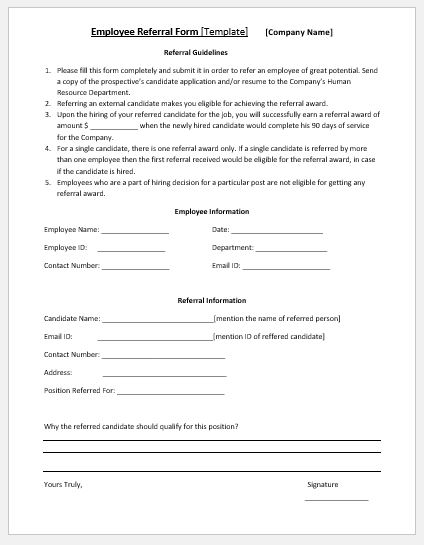 MS Word | Download