A tip is an extra sum of money that is paid to the workers for the service they had performed. Everyone knows the people to tip are waiters, waitresses, taxi drivers, barbers, hair stylists, hotel staff and tour guides etc.
These tips matter a lot to them because without these tips they would have a hard time to raise their families. Before paying it we should keep in mind that if the service is slow it is not always because of the servers. So if the service was not good enough even then we should tip something to them.
To calculate the tip that how much should we pay is very easy. If the service was horrible tip 5%. If the service was slow tip 10%. If the service was okay tip 15% and if the service was great then tip 20% of the total bill.
Some people are not willing to pay the tip and questioned why should they give tip? The answer is very simple and clear that we tip to express our happiness for the given services or to help them. The big part of the salaries of these workers is exclusively from tips. The tip is not necessary but a little money for their help is always nice. Some people tip some don't but it always shows a good gesture.
There are several benefits of tipping. Tipping boosts the efficiency of the servers because it is a reward for good service. So customers give bigger tips to better workers. This behavior increases good and active servers or workers in the industry. When people give tips they feel satisfied with the idea that they gave money to a hard working poor person.
Tipping is more common in big cities than in small towns. You should not tip if you don't afford it or you feel that server doesn't deserve it. Customers tip more when they are in a fine dining restaurant rather than in a fast food. In different countries tipping is different. In the UK you can tip in a restaurant but not in a pub. In UAE the tip is automatically added to the bill, on the other hand, Japan is a non-tipping society. Tipping is not expected in Switzerland but customers can leave 5 to 10% of the bill value.
In short tipping is a sign of good manners. Not tipping seems to be a rude behavior. It's a simple way to express your satisfaction and to say thank you for the given services.
Tip calculator will be a handy tool in the circumstances. Tips calculators help to find out the total amount of tip one gets for the services given. This template is designed using MS Excel software so a lot of people can access it easily.
Tips Calculator Template Preview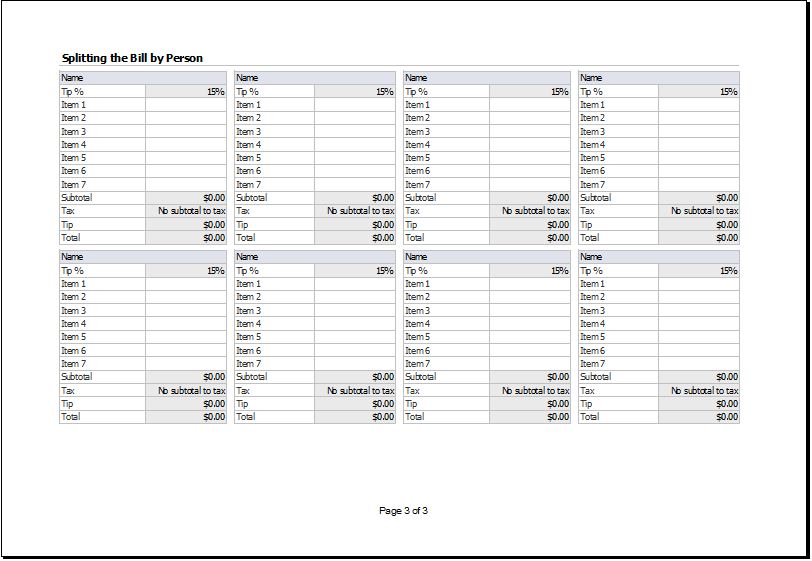 Format: MS Excel | Size: 49 KB