Death spares no one. It takes away whoever it likes and some people despite being young are caught by the merciless hands of death. Being civilized humans, we are supposed to behave accordingly in case of the death of a relative, friend or acquaintance. Hearing or sharing the news of the final departure of a staff member is a painful experience. Since in professional life, much of the work is done in written, so is the notification about the death of an employee or other staff member.
Memo is the short form of the word memorandum whereas a memorandum is basically a written message that is sent to the people in an organization about the death of a staff member. Memos are usually used in businesses and diplomatic relations.
A memo about the death of a staff member is easy to right. The memo is supposed to inform the member about the death so you don't have to go into unnecessary details.
Memos usually use email format. So begin by simply writing the name of who you want to send the memo. In case it is the boss, it would be like, "To the team" or "To all employees". If it is by a staff members, it can be like, "To all the staff members"
Straight away right about the member's death but yes, in a decent manner.
Memo might include the funeral details and a request to all employees to attend the funeral in order to say a last goodbye to the dear deceased.
Below is a sample of memo for the death of a staff member
Preview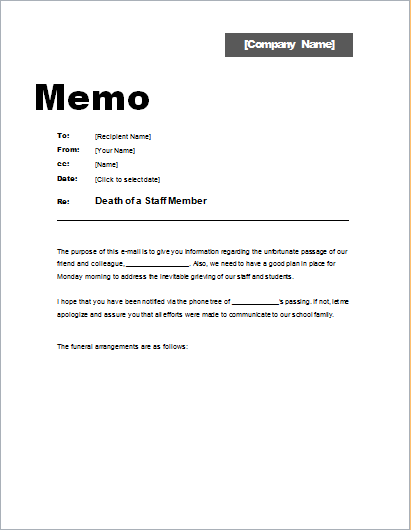 File Size: 40 KB
Download Word (.doc)