Planning and Packing
Going on a vacation brings harmony in your mind, body, and soul. But of course, when you are leaving for the vacation it calls for you to have all your things packed up. It means that you need the list of the items that you are taking along. Having a proper dressing according to the climate of the area you are visiting, your necessary items that you would prefer to keep along and then again many other things are there that you know better according to your needs and trip. So make a packing list right now before you make your way to your vacation trip.
Pack like a pro:
When you are on vacation, there is one thing that really is daunting and that is the absence of one's important things from the luggage. This means that before you leave for your vacation make a full-fledged list of items that you need with you during your journey.
If you are going with your family then it is better for you to display the list template at someplace where everyone can access it and in case if they remember something they could also jot it down there.
This is the process through which we are helping you by providing the vacation packing list template. It is simple to use and also have the spirit of vacation enclosed in it so that you could get your preparations all ready before you leave for the magical days.
---
Preview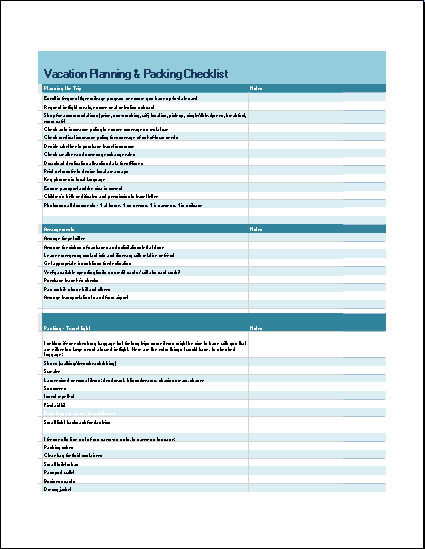 Vacation Planning & Packing Checklist
Provided by: ENERGY corp.
Microsoft Excel Format Template | Editable & Printable
Download size: 30 Kb