Gift Certificates
This is a personalized type of a word template that is used in the creation of a gift certificate. The concept of presenting gift certificates to your loved ones is growing very fast. People living a busy lifestyle do not have time to shop around and browse for good gifts for their friends and family members. In such situations it is easier to go to a shopping center or store to buy a certificate and present it to the person. Birthday gift certificate template is one such document that is easy to use and present.
A gift certificate is a legal document that has a specific cash value mentioned on it. The bearer of the gift certificate can take it to the particular store or shopping center and redeem the merchandise of that specific value from it. The birthday gift certificate template allows you to print a full page certificate that can be presented to the birthday boy or girl.
Many businesses these days are promoting such gift certificates. They help attract new customers and are also a mean to increase your customer base. It is an easy and convenient method of shopping for various occasions. Any business looking to make their own gift certificates can download the template from the internet and use it according to their own needs and requirements. The birthday gift certificate is especially designed to be presented on the birthdays of your family members and friends.
---
Preview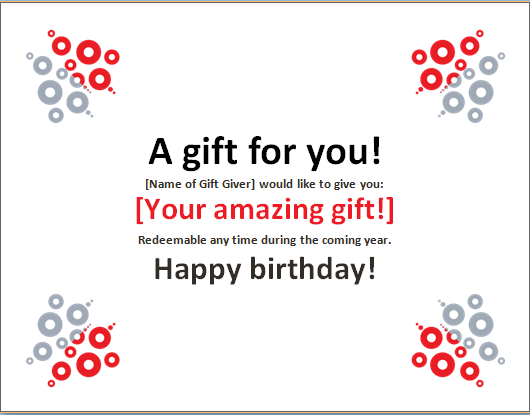 Birthday Gift Certificate
Provided by: ENERGY corp.
Microsoft Word Format Template | Editable & Printable
Download size: 311 Kb