A landlord rents his property with the conditions that no ruination be made to his property. The tenants are responsible for using the property as per conditions of the contract or otherwise are liable to pay for the damage made on their part. But a rent contract is not enough. Because a rent contract does not describe the details of property at the time it was rented and the time it was left. There is another document that works for this purpose. That is; tenant-landlord joint property inspection forms. Basically, when a landlord rents his property and the agreement is done, in order to inspect the condition of the property, an agent's or inspector's services are taken. The agent inspects the property and items within the property and records it in a form. The tenant and landlord then approve of the record if they agree with it. The purpose of this joint property inspection is that the clear record of the property is made at the time it was hired and the time it was left so that in case the tenant ruins the property in any way, be subjected legally to pay for the damage.
This inspection is made twice. Right after the agreement between the tenant and the landlord and right before the agreement ends and the tenant is to leave. The joint property record depends on what kind of property is rented. If it's a house, a form would contain the conditions of each area of the house, the rooms, toilets, kitchens, halls, dining rooms etc.
An inspection form includes the condition of household things and utensils if they were also provided by the renter. Since its a legal form, it should properly be signed by both the landlord and the tenant. It is suggested to be approving the form by an attorney.
Below are the samples of tenant-landlord joint property form. These modifiable forms can be edited according to your need as they support both MS word and PDF format.
Preview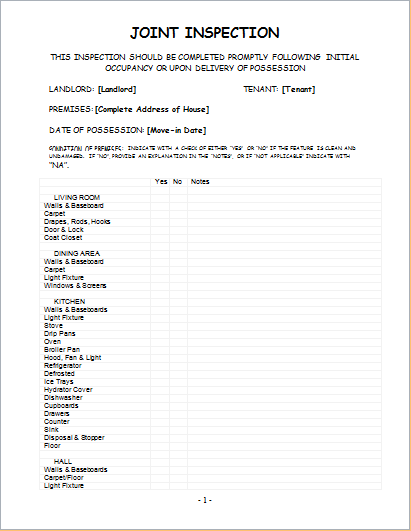 File Size: 172 KB
Download Word (.doc)