The scope of work (SOW) is a formal document that is used on the official basis by an independent consultant to know about a few specific things related to the client's project. These things include the responsibilities, undertakings, deliverables and timeline. The template is designed to assess the limitations regarding the project details. It also helps us to determine the performance with reference to the objectives of the project. Not only this, it assists us in a couple of other ways as well. To know about how the targets can be met or the tasks can be done or how the activities need to be carried out. It is significant that the aims and the deliverables must be mentioned visibly while planning the template.
All the above-discussed things must be a part of the work scope template. If the things aren't defined or mentioned clearly, they lead to misunderstanding resulting in confusion. This also affects the goals that were intended to be accomplished through the project. The SOW is an authorized stratagem but it can also be used as a medium of communication between you and your client. It acts as a protective shield for the independent consultant and the client both in providing them with their authorized rights. The best way to use it is during your first meeting with the client to discuss the expectations he has and how does he want the project to be executed.
The SOW helps to build a relationship between you and your client by keeping you focused on the deliverables by managing things according to the client's demand. Below is given a sample template for this document.
Preview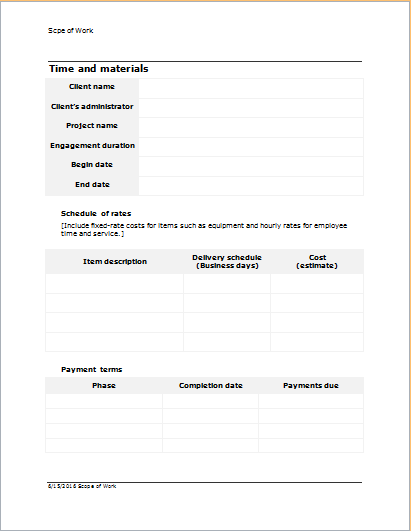 File Size: 128 KB
Download Word (.doc)