Project Planning
Project planning is an important part of project management, and during this process, you can use charts, graphs, and tables to evaluate the performance of your project. It will help you to define the scope and methods of the project for its successful execution. Completion of a project may require teamwork because lots of activities may involve in the successful project execution and end. You can take the help of project planning template. It enables you to keep track of all important tasks and status of the ongoing project.
The template is absolutely free and designed with all essential features, including the timeline for the six-week calendar and other important details to track the milestone of the project.
How to use project planning template?
The template is quite good to use for your project planning as the completion of a project may require plenty of time and cost. If you want to track the performance of your project, compile a complete report and the template will prove helpful for that. Divide your template into different sections and write about the performance of every team member with details of assigned tasks. You can add or subtract any section to increase the efficiency.
If you are going to start a new project, it will be good to start with initial planning and your work will be really simple with the help of this free planning template.
---
Preview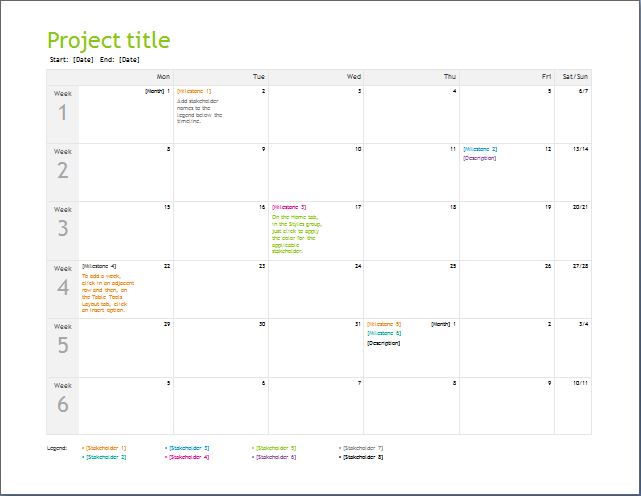 Project Planning Timeline
Provided by: office.microsoft.com
Project planning is an essential tool and routine task of a business. Major milestones of a project can be written down using given timeline template. It is in a six-week calendar format which can be used twice for a year.
Download size: 34  Kb