Summer Party & Event Flyers
It's time to hit the beach! The heat is loved by all beach freaks and with this time of summer, no one can avoid the amazing beach. Girls love showing off their body through bikinis and they mostly tone them for being ready for this. A lot of bikini competitions are held during summers and some really exciting prices are also given off.
For making a flyer for summer bikini contest, you must make it really eye-striking and fun looking….since it speaks of fun in every way! If you are really eager to know that how can you manage to make your summer bikini contest flyer, stand out, then maybe some of the below-mentioned tips might prove helpful for you;
Make a title which really worth to make the heads turn around in your direction…make it bold and stylish.
Select a venue which is very popular and people love hanging out there…mostly these contests are held on beaches!
Put a reward title on it…make it something different; not anything that all contests offer.
Put some special drinks on the "FREE" tag, for some limited time…not for all along the event…this way a lot of people will arrive at the event, on the right time.
Your theme is something that you need to pay attention to a lot…it must be attractive and related to the topic. You can also collect ideas from the internet or you can purchase an online flyer as well.
---
Preview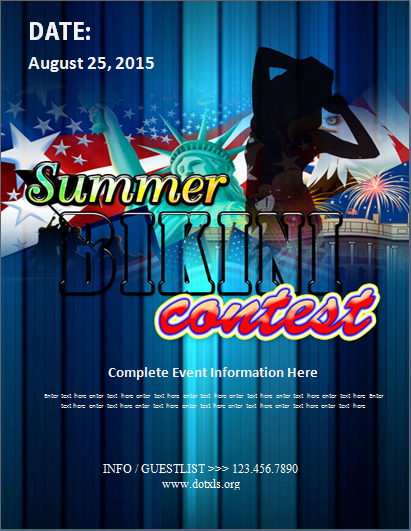 Summer Bikini Contest Flyer
Provided by: ENERGY corp.
Microsoft Word Format Flyer | Editable & Printable
Download size: 205 Kb