Football Events
Football is an amazing game and millions of people love it endlessly. Football freaks are heard discussing it a lot and with great interest. This is the weakness of all football fans…they simply cannot miss any event that is related to football and no matter what, they will attend it. So be sure that your football event flyers are attractive and happening enough to satisfy the football freaks to all the limits.
Event Flyers
Flyers are used as a medium to spread a word out about an event or advertise a business, company or any product. Why do people prefer using flyers instead of proper invitation cards? The reason is quite simple…they cost less and work the same as invitations do.Your venue is there, contact details are available, selected and most happening features of your event are also mentioned…maybe it is better than an invitation card itself.
A football flyer is most attractive when it is wrapped around the theme of football or different football leagues. Your theme obviously depends on what kind of football event it is; if you are supporting someone through this event, then you can simply make a proper and cool fan flyer which will definitely attract all the lovers of the specific team.
On the contrary, if the event has all the teams and stuff, then you can make a flyer which lets the people know that what teams are there and so on. The best way is to stay precise but let the idea and theme of the flyer do the magic.
---
Preview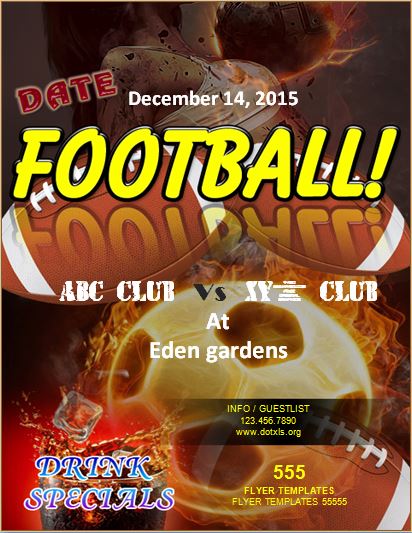 Football Event Flyer
Provided by: ENERGY corp.
A beautiful flyer to inform people about football event in the city. Customize this Microsoft Word made flyer according to your requirement.
Download size: 506 Kb