Seasonal Event Flyer
The seasonal event flyer is a great way to inform others about seasonal events. There are lots of season events, such as spring events, summer events, Christmas, Easter holidays, etc. It is really exciting to throw a party for the celebration of each season, and without guests, the party can't be successful. If you are organizing a seasonal event at large scale, then instead of spending extra money on the invitations, you can design a seasonal event flyer.
The event flyer is easy to design and can be distributed at commercial places to inform a maximum number of people. It will reduce your expense and make it easy for you to invite lots of people at your event. The flyer is easy to design and you will surely get maximum space to write details.
Benefits of Seasonal Event Flyer
A colorful spring event will increase the charm of your seasonal event. You can throw a themed based party and the colors of the flyer will be based on the theme. The seasonal event flyer template is designed for your help, and its contents can be modified easily. The flyer is absolutely free, and you can download it to design invitation flyers.
Given template contains sample contents and images; therefore, you can replace them easily according to the theme of your own event. Make sure to include all important details, such as the details of the event, nature of the event, dress code, time and date, menu and a tag line. The event flyer can convey your message to maximum people at once.
---
Preview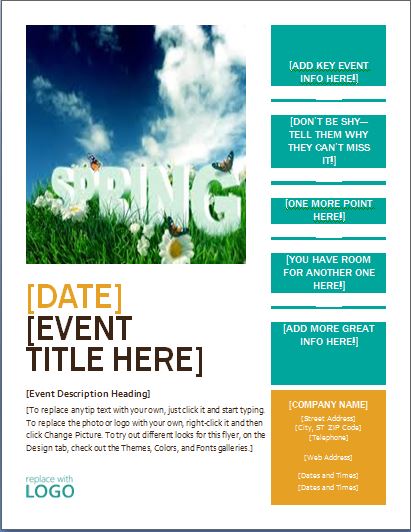 Seasonal Event Flyer
Provided by: ENERGY corp.
The seasonal event flyer is all time need for fun lovers. To spread the message about seasonal party nothing can be a better choice than using this flyer. This sample image can be replaced with the one you like along with all editable text. Customize this flyer to let people know exactly what your seasonal party is all about.
Download size: 202 Kb