Back to School Flyers
Most students rejoice when school closes down for vacations. They look forward to the time of holidays and spring breaks when they can enjoy freely without the tension of studies and tests. But once the school is about to start most students find themselves in a state of anxiety. For this reason, most schools work on drafting back to school flyer to distribute to the students and get them informed about the school's new routine and academic classes.The back to school flyers
The back to school flyers is provided to the students well before time so that they get informed about the re-opening dates of the school, the new timings, and schedule of classes. Any other relevant information may also be added to the said flyer.
Schools may employ the services of a mailing company or postal messenger to distribute the flyer to the students and their parents. Or this job can also be done by the volunteer students or staff themselves.
The flyer should be designed keeping in mind the academic theme of the school. You can add pictures of the books, teachers, students, school buildings and much more. You can also search the internet and get many ideas about designing and printing the back to school flyers. There are a number of websites that are providing these services and templates free of charge and also have a great variety of documents for the clients.
---
Preview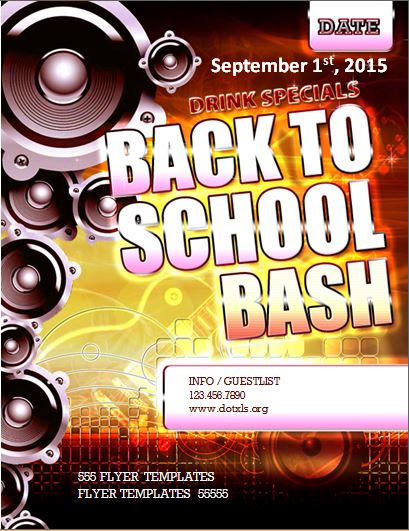 Back to School Flyer
Provided by: ENERGY corp.
The flyer is a very unique in its color scheme and layout. All the text in the flyer document can be customized as per user's requirement. Given flyer is designed using Microsoft Word software.
Download size: 592 Kb