Special Event Flyers
One of the most powerful marketing tools, event flyers are used to spread awareness about a certain event which will take place. Marketing plays a very big role in keeping you in business.
In today's day and age with the enthusiasm of digital and social media, where everything is done in a different way, event flyers are a more traditional way of advertising. Handing out flyers ensures that the information one intended to get to a certain amount of people actually got to them.
The city night spring flyer informs people about the dates and days the events will take place along with its timings and other particulars of the event for example flower shows, concerts, eating festivals etc.
The flyer furthermore also informs about the different performances and activities which will take place during the city night. It also lists its star performances and performers along with the prices for the tickets and where you can purchase them from. Usually, the flyer will also list a couple of phone numbers. It is a very colorful, bright and inviting flyer.
Any event flyer is a good way to let others know about your event, it is a fast, easy and inexpensive way to promote the event. Any flyer needs to be attractive, simple to read and understand, and it should stand out from all the other flyers out there and the city night flyer manages to do just that.
---
Preview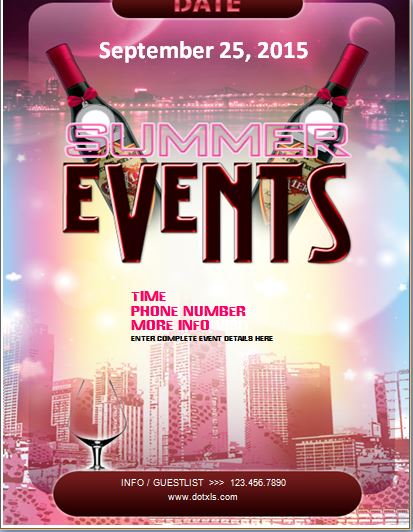 City Night Spring Flyer
Provided by: ENERGY corp.
Event flyers are always demanded. Events are all around throughout the year. People who love celebrating events also like to invite people to come and have fun with them. City night spring flyer is hence a choice of the people who want to arrange and enjoy spring event. The template is formatted using Microsoft Word and is completely editable with one's own information and requirement.
Download size: 408 Kb