12-Months Timeline
The 12-month timeline template proves helpful to plan your annual tasks, and it is multipurpose. You can plan your study schedule, office assignments, household activities, personal, family or business trips and wedding arrangements. It is an easy and cost effective way to plan the whole thing in advance. Prior planning is always important to save time and money, specifically for the business or study planning. For wedding an example a to-do list will help you to plan your wedding within your budget. Set a wedding date and start your planning from the first month.
The template is divided into 12 months, and you can plan your wedding management and other important things in accordance with time. Divide different activities in the twelve months and keep on arranging the things in accordance. The guest list is really important to determine other wedding arrangements.
How to use 12-Months Timeline template?
The template is designed to make your life organized because your chores and activities can be set up in schedules. It is important to prioritize each task according to needs and importance.
In the template, you will get a chance to pen down all important tasks on the first day of the year, but update the document on a regular basis. You can write all important events, meetings, conferences, results, wedding receptions, birthdays and many other important things. It will help you to remember every important event, and prevent any problem. The 12-months timeline template is absolutely free to plan the activities for the whole year.
Preview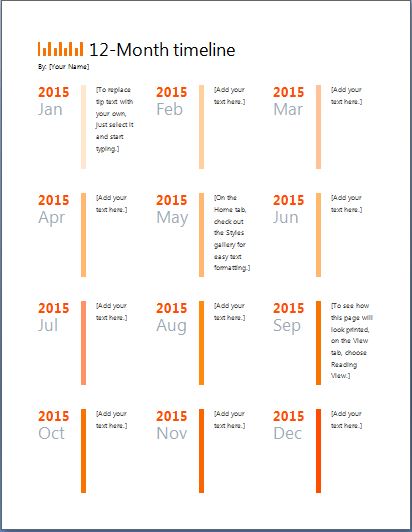 12 Months Timeline
Provided by: www.office.microsoft.com
12 months timeline is an event organized document that is helpful for all sorts timeline planning. To write down major events and happening on a paper for throughout the year is a good reminder all the time. Paste it on stick board and you are not going to miss anything including your wife's birthday. !!! Have fun.
Download size:  29  Kb