With increasing inflation, it is very difficult to make both ends meet. Every person struggles to live a balanced life so that they are not worn out of basic necessities. People try to pay attention to their every spending so that money can be tracked and wasting money can be minimized. Every middle-class family goes through this turmoil every month to make sure they have food on their tables at the end of the month.
What is a bill payment schedule?
A bill payment record sheet refers to the document which keeps a record of every bill that is received during a designated period. Records for monthly, quarterly, or yearly bills are maintained in an organized manner to track how much money is spent for clearing all bills. Most of these bills seem related to utilities such as electricity, gas, phone, mobile, etc.
This sheet can be extended to add more categories for keeping track in detail. Moreover, these sheets are highly manageable and can be maintained by anyone. Bill payment can also be stored by attaching paid bill copy as proof.
Wonder what to add to the schedule?
Contents of the bill payment record sheet may vary depending on the requirements of the person managing it but they include the following general information:
Name of individual
List of items
Time period
Payment
Mode of Payment
All these contents can be increased or decreased depending on the choice of the person managing it.
Sample Schedule
The bill payment record sheet sample is given below.
Bill Payment
Name of individual: ………
| | | | | | | |
| --- | --- | --- | --- | --- | --- | --- |
| List | Jan | Feb | Mar | Apr | May | June |
| Credit card | | | | | | |
| Grocery | | | | | | |
| Electric | | | | | | |
| Gas | | | | | | |
| Water & sanitation | | | | | | |
Sample Design
The above-mentioned sample can be extended for adding more items and data for a year can also be added. It can also be customized to add data for one month only.
How important it is to have a schedule?
Bill payment record sheets have significant effects on the lives of people who want to manage their finances and track their spending. The importance of the bill payment schedule is given below,
It helps people to remember if they had paid certain bills or are due.
A list of all billing items helps in making sure that our bills are added and none is overlooked
If billing is too much for any item, then for next month it will make you aware that you should use it less.
Bill payment record sheet makes it easier to organize a large amount of data spanning over 6 months on a piece of paper.
It is a user-friendly technique and can be maintained by anyone.
To make the sheet more precise, a color-coding system can be used for different items in the list.
It is easily manageable and gives you a complete graph of how you are spending on bills.
Bill record sheets help you in taking a control of your finances
The sheet can be customized to enter more categories such as an extension to a year or a reduction to a month.
Moreover, the due date and payment date of bills can be added to the sheet which helps an individual to be aware and conscious.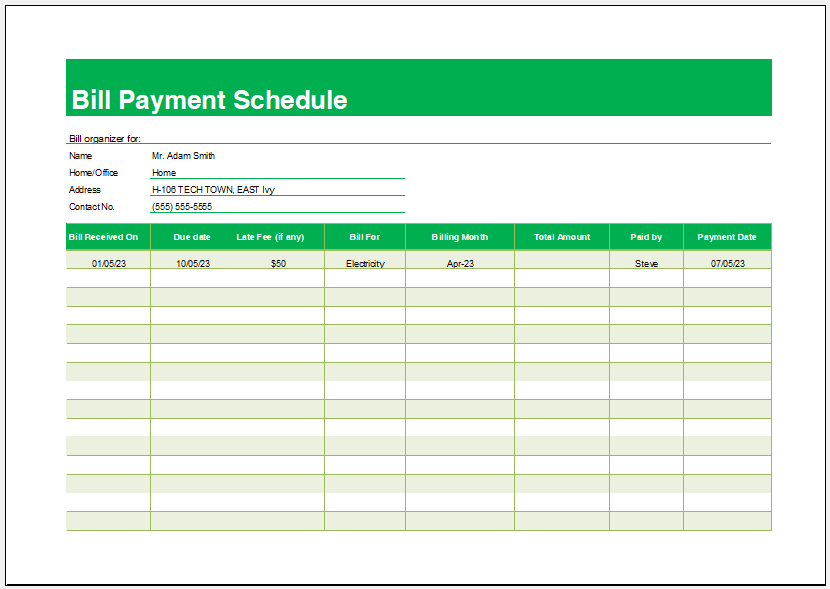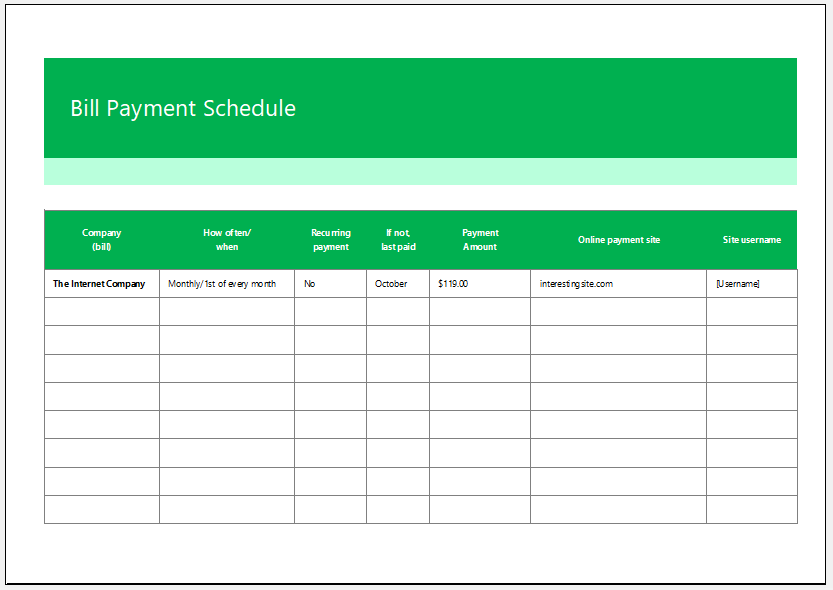 Cash flow management
Cash flows management is a key to success nowadays. You cannot imagine progress or development without managing your cash flows. It does not matter whether we speak of an individual or a full-fledged business entity. Cash flow management is a key to sustainability. The cash flows, especially the ones that flow out need to be managed. Things need to be managed in order to keep control over costs.
The bills comprise cash flows out of the system and thus will be considered as a cost. The bills thus need to be managed and a track needs to be maintained in order to keep this cost in control. The bill payment schedule development can help you in this regard and you can become able to manage your cash flows quite comprehensively.
The development of a schedule can take a vital amount of your time so it is even better if you should use something like a bill payment schedule template.
The template can be considered a readymade scheduling tool. It can be used directly to schedule and manage bill payments. But it can also be used to create one that can be used in a more customized form.
The template can act as a guide in schedule development while providing you with the resource for the development of schedules at the same time. The super stencil is loaded with the equipment necessary for the bill schedule creation. 
Bill payment schedule is an assistant tool for everyone. It is a perfect stencil to keep a record of all billing systems. The template is designed using a Microsoft Excel worksheet. It is completely editable as per the user's requirement.