Staff Schedule
Managing work place is a really big challenge and it takes a lot of energy and time of yours. This also includes the time break, work to be assigned and managing the other petty problems of your staff such as their leaves and other chores. All this responsibility and routine can really put you and your work in a strain. So, when you get this all planned out, by the time you are done you will feel like you are drained of all your energy. But not anymore, if you really want to make all your office work especially staff related experience a breeze that you enjoy, and then we have a solution for you.
Sit back and use staff schedule template
We have designed the staff schedule template for you that have the property of being so useful that you can just fill it up the way you want and then display it for your staff to follow. In this schedule template you can put all the necessary information such as what work you want to assign to which particular employee and what is the deadline for them to submit it. When all of this is done, the rest is the employees work and for you it is rest and time for your own office work. The schedule template will surely make your life easy and there would be a greater chance for you to bring progress in your work as you will be able to save some time from too much worrying.
---
Preview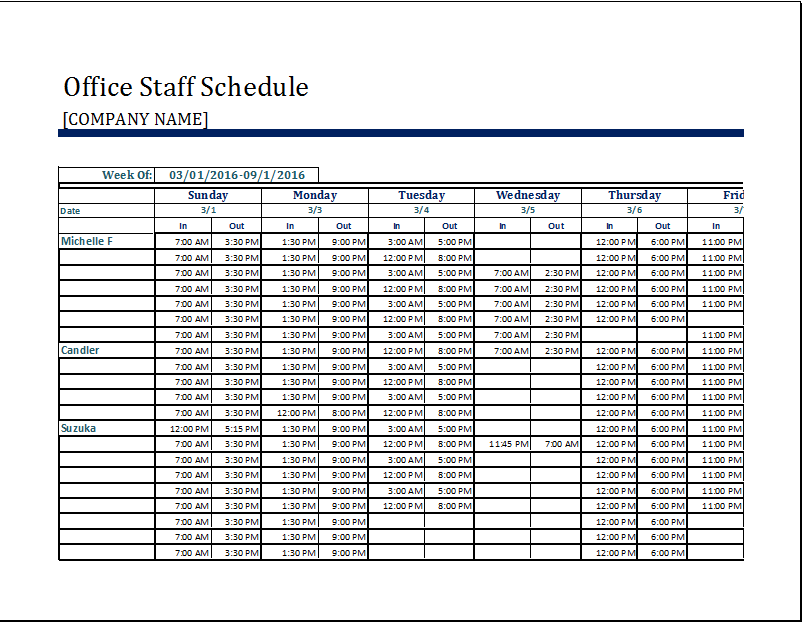 Office Staff Schedule
Provided by: ENERGY corp.
Staff schedule is very much helpful in scheduling staff's daily routine. Total working hours along with time in and out can be calculated easily with the help of this template.
Download size:  Kb