Door or Wall Signs
A school or college is a large building where there are a number of rooms. Every room is designed for a specific purpose. Some become classrooms for lectures, some act as activity rooms; there might be a library, computer lab and many other special rooms in the school or college building. For the ease of recognition and ability for the students to find their relevant classroom, each room is designated with a classroom door sign template. This may contain the title of the classroom, room number and name of teacher on that particular class.
The classroom door sign template may also contain a welcome quotation or a beautiful picture. Addition of such features may act as way of making the classroom door sign template more attractive and conspicuous for the visitors and viewers.
The classroom door or wall sign template is among the many templates that are available not only on Microsoft word but also a number of typing and content management websites. You can download the template and use it according to your needs and requirements.
This is a very useful and helpful document that help teachers and administrative staff of the school or college to easily make such classroom signs and print them with the help of a printer. This activity not only saves the money but is also very effective for saving efforts and time of the staff. So the next time you need something like this just use the internet and download the classroom wall sign template.
---
Preview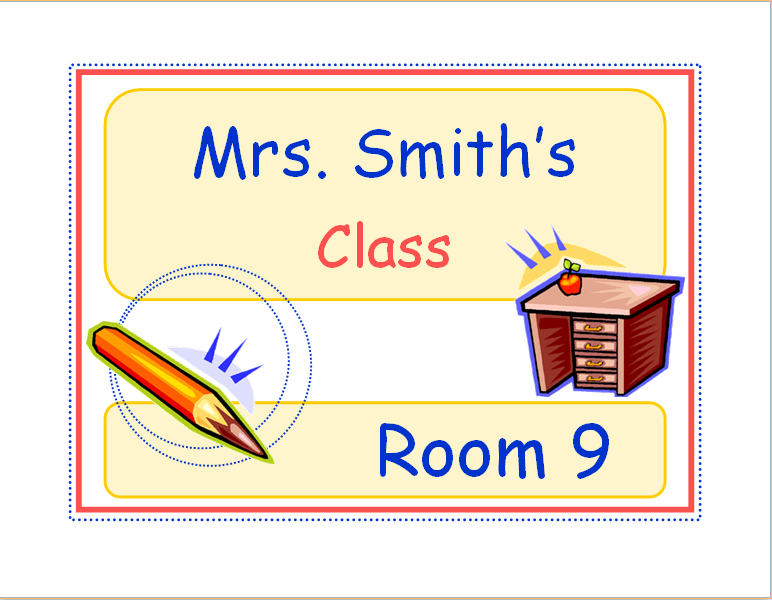 Classroom Door or Wall Sign
Provided by: ENERGY corp.
Use this beautiful design template for your classroom. Your teacher is definitely going to impress with your efforts of displaying the card on the wall. Download it as it is or customize as per your requirement using Microsoft Word software.
Download size: 51 Kb