Every educational institution requires you to be efficient while keeping a record of its students. With newer and stricter rules, attendance is first checked to let a student sit in the exam in higher educational systems.
It surely is a matter of concern for every teacher to keep an eye on how the student is progressing, and the most reliable tool of marking that progress is a Student Attendance Record & Report Sheet. With this in hand, a teacher gets a fair view of the students which saves time from monitoring them individually.
For this purpose, Microsoft® provides a readymade Student Attendance Record sheet that contains the important contents to mark the daily presence and absence.
The sheet is designed to aid mental clearance for quick recording. The titles are emboldened and lines aligned with perfect spaces. Hundreds of registers can be made with a simple click that comes as a cheaper option!
With this in hand, the teacher can calculate term percentages, mark the number of studio or lecture hours a student takes every semester. Plus, it also helps the administration to file student record in the computer data base at the end of the term.
This can keep the institution updated, it supports any claims or warning letters the institution might be issuing to a student's parents. It can also form the basis for whether the student is eligible to be promoted to next class or semester.
The sheet will also help to know whether any assignments have been missed out by the student so that it can be compensated in the next term.
So, make your life easier by downloading the attendance record sheet.
Preview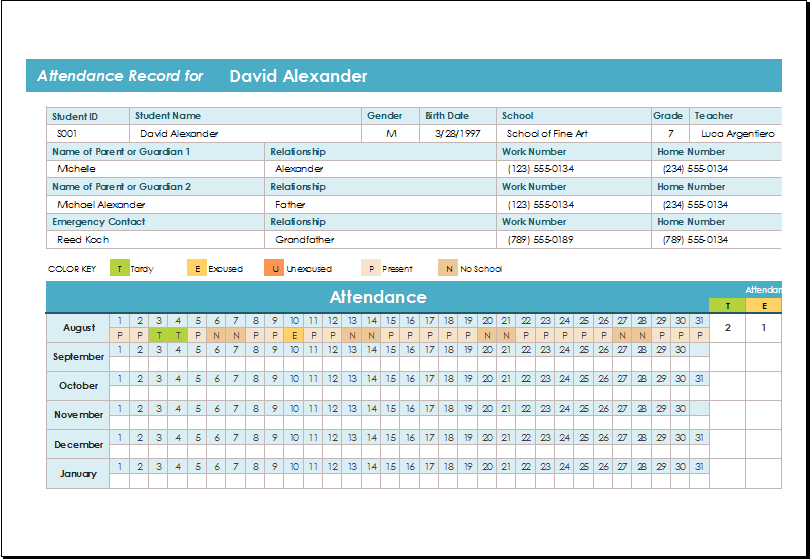 File Size: 144 KB
Download Excel (.xls)
Provided by: templates.office.com/