Family monthly budget template is a spreadsheet that is used to calculate the existing difference between the actual and projected income and also provides a summary of the balance. This monthly budget spreadsheet also help in comparing your month budget with your total actual expenditures occurred. Since this worksheet template is available in excel format in shape of a spreadsheet, the difference between actual spending and budget can be calculated easily and can be formatted in such a way that it is very easy to determine that where you are over spending and how to improve it.
This budget template helps you in getting your finances under control in a systematic way. Some relevant templates like yearly personal budget is helpful in making a budget for a calendar year and a family budget template helps in planning a family budget in a detailed manner. This spreadsheet template mainly includes two main columns i.e. actual and projected values along with variance that is calculated by it using formulation.
When using this template, you only need to fill in the highlighted fields with your numbers and it will do the rest of the job for you. The main purpose of this format is to have a close look at the difference of your monthly budget variations that where the things go wrong where you need to really improve. It is considered to be a great tool to manage your monthly budget with respect to your income as well as your expenditures. With the help of this template, you can improve both your income and savings comprehensively.
Preview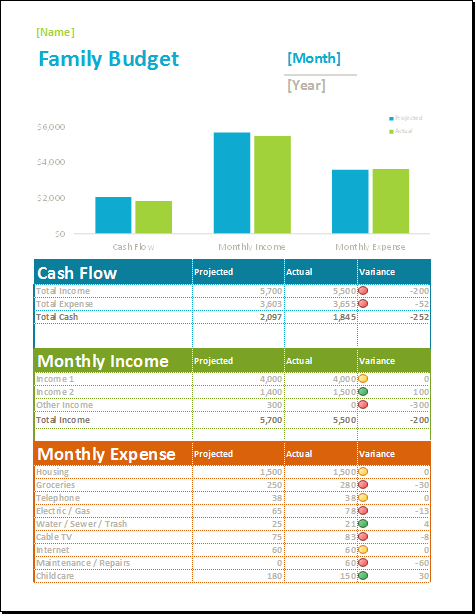 Download Excel (.xls)
File Size: 52 KB