Event planning is a difficult task because you have to fulfill lots of responsibilities for a successful event. Every event should be planned around your budget, therefore it is important to consider it. In the first step, you have to divide the activities of your events and allocate the budget according to it. The event budget plays an important role in the success and failure of your event. You may have to arrange entertainment, food, sitting arrangements, and venue, etc. Everything should be managed within your budget. The event budget will help you to stay organized and you can answer various queries of the client. It may make it easy for you to avoid going over your budget.
A basic event, including dinner party or a seminar, you have to divide your event planning into various categories, including:
 Item
 Expenses of the project
 Actual expenses
 Important details
If you are responsible for planning the next event for the organization and company, you should plan the budget in the first step according to the requirements of the event. The event budget template will help you to compare the budget with the actual cost and the income of the company. You can divide your work into different categories to make it easy. The event budget template is absolutely free and you can use it as a guideline to design your own budget. It will save your time and additional cost that may incur due to poor planning.
This template is Microsoft Excel file which consists of three sheets.
Sheet#1 Expense's detail
This sheet contains expense data of different categories. It has fields to write estimated and actual data for the site. Expense details related to site, decorations, refreshments and other has been mentioned.
Sheet#2 Income's detail
This sheet contains total income details for the event. Different income sources have been mentioned that one may generate to comfort the budget. Different income sources include Admissions, Ads, Vendors and sale of items. Estimated and actual income is calculated to see the difference in detail.
Sheet#3 Complete summary of profit and loss
This sheet contains a brief summary of profit and loss. Estimated and actual details of income and expense have been given in numeric as well as in a graphical way.
---
Preview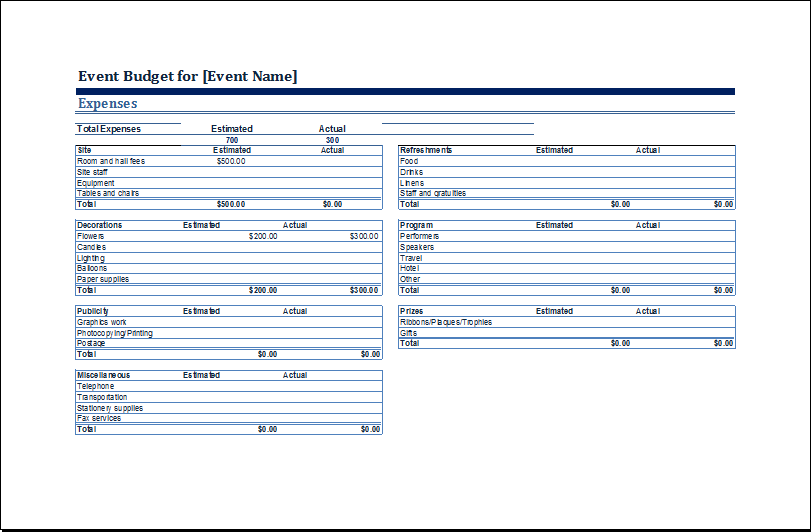 Event Budget Template
Provided by: ENERGY corp.
File Format: Microsoft Excel | Printable | Editable |
Download size: 72 Kb