An event budget template is a planning tool used by event planners for estimating the total cost of conducting an event. It is a pre-designed document that includes all the steps that are required for planning an event. This template can be used for all types of events to make the event go smoothly without any financial or physical constraints.
This budget template lists all the major tasks pertaining to organizing an event and entertaining guests. It makes it easier for event planners to finalize the cost that would be required for conducting a successful event.
While organizing an event, there are various tasks that need to be accomplished before it starts. These tasks can be divided into various sections and can help event planner to plan their staffing accordingly.
Categories and planning
The whole event can be divided into various categories by using the budget template and then each category can be ticked off once it is done. Some of the major categories that need to be taken care of include,
Venue: choosing a particular venue, renting the place for an event, or taking permission from owners to conduct an event. It also requires furnishing the place so that it seems like a celebration. Removal of debris and waste to make the venue event friendly.
Catering: all the food and beverages required for the event should be included in the event along with their prices. It is advisable to share the unit price as well as the total quantity of food and its price. A big chunk of financial resources is required for catering services.
Decoration: while planning an event, a special emphasis is put on the decoration of the venue. It may include flowers, ribbons, balloons, and other decorative ornaments.
Invites: special invites are prepared for a large-scale event because these invites keep the number of guests informed and do not allow any event crashers. Making invites and handing them out to all guests can be a very tiresome and expensive job.
Staffing: all the above-mentioned tasks require manpower for conducting them successfully therefore, it is important to hire skilled people who know how to do their job perfectly. Moreover, waiters, decorators, and photographers are also hired for covering the event as a whole.
Marketing: marketing of all large-scale events require unique strategies so that people are aware of the recent happenings at the event. Hiring digital marketers and contacting journals and tabloids for coverage also require financial aid.
The budget template
All the above-mentioned tasks are listed in the budget template to come up with a cost figure. Major categories can be divided into sub-categories for a proper display of expenditures. If expenses are considered too high to cover, some items are removed and replaced with cheaper options. The event budget template provides ease of customization because it is flexible and can be adjusted according to the requirement of the user.
Budget templates are usually found on online websites. These templates can be easily downloaded and used for all kinds of events. They are free of cost and can be customized according to the demands of the user.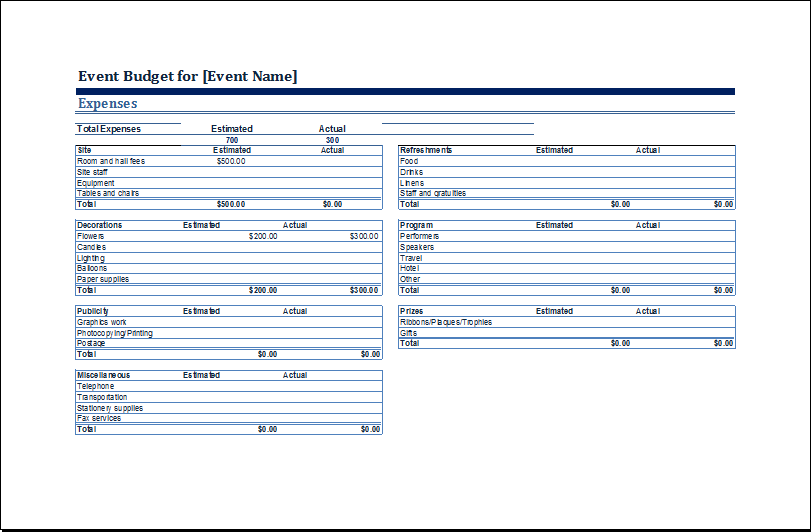 Download size: 72 Kb