An automotive repair tracker is a tool that records all the data regarding the damage and repair of an automobile. Automotive is prone to errors and damage which can cause serious problems. These damages need to be addressed as soon as they appear to keep the health of an automobile stable. Automotive repair tracker helps owners in various ways by providing useful information.
These trackers are available in various forms to facilitate automotive owners i.e. mobile applications or websites on online portals. Trackers are electronically enabled to record the health of automobiles and inform owners through reminders before the error becomes a serious problem. Maintaining automobiles is considered important because it keeps you aware of your ride and also increases its resale value.
Features of the tracker
Different automotive repair trackers have different features but these all trackers facilitate automotive owners and save them from big losses. Some key features of the repair tracker are mentioned below,
Repair history: all the repairing and correction of the automotive can be fed into the system which can then be used again and again whenever needed. Trackers are enabled to show previous histories of repair in case owners forget about them. Repair history helps in identifying the root cause of the problem based on previous knowledge.
Reminders: if automotive service or repair is due, trackers can be adjusted to show timely reminders. It keeps the owner aware and also helps them in setting up future reminders.
Cost: addition of each repair cost can help in devising a budget for the automotive. Some vintage automobiles require regular repair and a fraction of income should be kept aside for their services.
Fuel mileage: adding information about fuel intake and the distance traveled can provide careful insight into the automotive mileage, which is a direct measure of its health. Many automotive service providers need the above-mentioned information to start the repair process.
 Automotive health: many trackers provide information about battery voltage, oil change, etc. which helps in catering to small problems before they turn into big ones.
These repair trackers help you in making an informed decision based on the data provided. It keeps the automotive in perfect health and relieves the owner's tension.
It is a widely used application worldwide
Automotive repair trackers are widely used worldwide because of the following reasons,
In addition to regular servicing, automobiles require damage control for running smoothly. Trackers help in making decisions based on the condition of the automotive.
The tracker organizes data which can then be used for reference.
It saves time as well as money for automotive owners by alarming them about minor errors.
Regular reminders keep owners on their toes about damage repair.
Regular servicing and tending to repair improves the efficacy of an automotive. Its mileage remains constant and adds to the overall health of automobiles.
Considering earlier damage repair ensures your safety while driving, especially during long journeys.
 Repair history helps the owner to deduce problems that might occur repeatedly.
Helps owner in calculating the cost for individual repair so that budget can be modified to include automotive repair.
In the case of changing owners, data can be transferred without any hassle.
Preview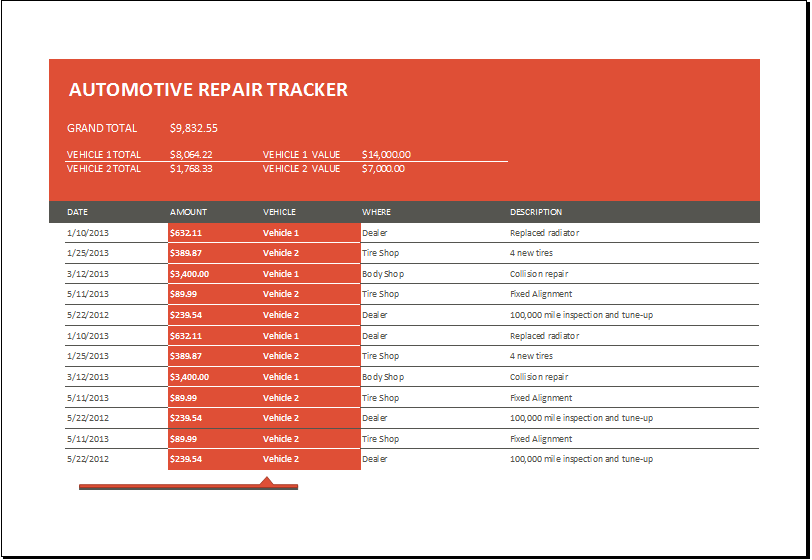 File Size: 40 KB