We get sick, our vehicles too. We get better with medication and they get better with the repair. Vehicles want repairs and cleaning often and only then they can be used as swift and easy going vehicles. People who have one vehicle have a less load of keeping track of their repair. But if you're a business tycoon having a number of cars at the office for employee use or have more than one car at home to be used by individuals, you surely are going to have a headache when it comes to tracking the repairing details of vehicles. This problem isn't a problem anymore. The automotive repair tracker helps you keep the record of all the repair cycles that your poor vehicle takes.
This excel book template for automotive repair has a number of sections where it records all the details regarding the vehicle's repair. It records the vehicle's name and model, dates when the vehicle was repaired, total cost that the repair took, the place where the vehicle was repaired (at a tire shop or at a dealer etc.) and the description of what repairing were done.
With an automotive repair tracker, you're not only able to keep records of your vehicle repairing but also get an idea of the calculation of the total cost. You might want to give up a vehicle if it is asking for repair every now and then. Tracker helps you decide.
Automotive vehicle tracker has an inbuilt calculator and tracker. It keeps on calculating the costs every time a repair detail is added and provides the total cost at the very top of the tracker. The inbuilt tracker helps you find out about any specific vehicle at one click. So this tracker is an absolutely amazing tool to be used.
So, if you're worried about tracking your vehicle's repair, use this automotive repair tracker given below.
Preview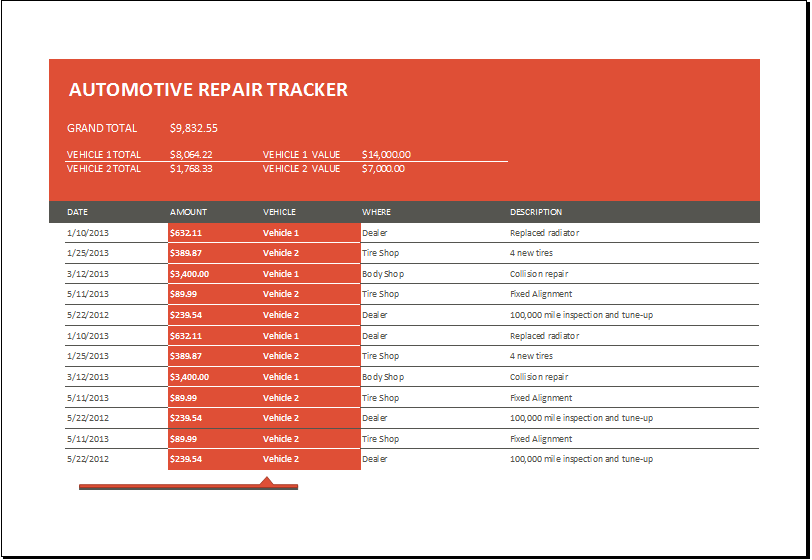 File Size: 40 KB
Download Word (.doc)