What is feedback?
It is imperative for an effective communication process to be complete that a feedback is received. A feedback is a response to a certain output given by the receiver or user. Feedback is the key factor of future improvement and changes within a system as they are responsible for pointing out the defects and additional requirements of a certain system.
Feedback Form for Substitute Teacher:
For a teacher a second opinion and perception are most important, this perception and response can be used for the betterment of the teacher's own methods. It is easiest to get a second opinion through substitution teachers by getting a responsive feedback from them, discussing their experience with the class. A day spent with the class is enough to gather bundles of information regarding the students and their learning abilities; it allows the substitution teacher to undergo a thorough analysis of everything. For the class teacher to receive a response from the substitute teacher he/she requires a well-established feedback form, Microsoft Word has made a detailed template for such a purpose specifically.
It discusses and questions the substitute teacher of both her experience and her suggestions, so that with the correct and precise feedback the teacher may be successful in the implementation of these suggestions. The template also is facilitated with the section where the substitution teacher is required to list the names' of students she thought performed exceptionally well during the class day, providing complete insight regarding the school day.
---
Preview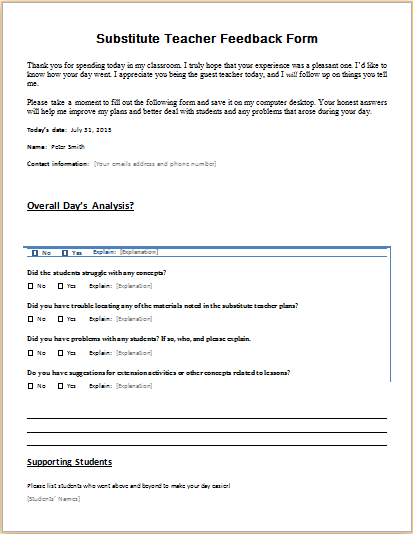 Substitute Teacher Feedback Form
Provided by: ENERGY corp.
The given feedback form for a substitute teacher is all in ready to use format. School, colleges and other educational institutions can utilize this document to collect feedback about substitute teacher's work.
Download size: 41 Kb