Business Analysis and Forecast
Forecasting things for future are one important aspect for any manager to do so. Any strategic decision and moves have to be supported or backed by a good stance. This is only possible if manager or decision makers do so in accordance with the financial condition. This also gives a clear idea where the company actually stands and can assess what it is capable of and what not. These all issues have one simple solution – five-year projection worksheet. Generally, it is the duty of well-qualified accountants and finance personnel to construct this. But now with the help of projection worksheet, anyone can make without trouble because five-year projection worksheet leads to better forecasting decisions.
This worksheet covers all basic areas that include a balance sheet, cash flows and income statement. Balance sheets help to assess the company's strength in term of assets and liabilities. Cash flows include the inflow and outflow of cash and the available cash balances of the company over a period of time. Finally, the income statement is used for the purpose of evaluating expenses and profits. For each of the following separate head is constructed.
It is up to your accord if you want to add or remove any type of analysis and insert a new one. You just have to enter the values for each type in the given column with the specified time period, either monthly or yearly. You will finally get a clear picture in all regards of the company and lead towards a profitable decision.
---
Preview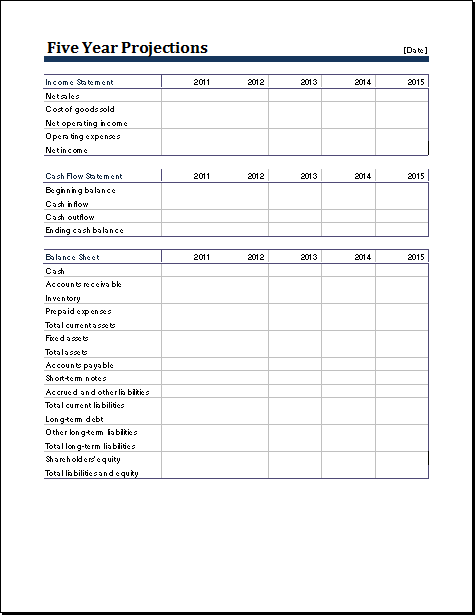 Five Year Business Projection Worksheet
Provided by: ENERGY corp.
File Format: Microsoft Excel | Printable | Editable |
Download size: 35 Kb