Now a day men are looking after their bodies and their health as well just like the women does. The weight issue is not a problem for the ladies just but it is for the men too. The men who have office jobs and they spend a lot of time sitting in their offices get really obese usually. Many men don't even exercise properly which is why they get the weight put on and then this weight consequently become the main reason for their health problem(s). Fitness goes out the door when your body is accumulated with the extra pounds.
Weight is the only problem that you see physically but is the reason for one's major internal problem(s). This means that it is very necessary that you get the proper exercise to keep food pattern under complete observation. For this, the only way is to do it with the guidance of some useful help and we have brought it to you in the form of a template. You can get this pre-designed fitness and weight loss chart for men and women prepared exclusively for the concerned people and then make it a way of getting in the desired form.
This is the chart that will help you jot down all the details and thus you will be able to make your life very organized and bring the complete weight loss pattern in the order. We are going to help you with your wellness in health through this chart.
How to use this template?
This sample template is designed and prepared using MS Excel. The user is required to know a little about Excel to make the best use of this template. This template is a wonderful presentation and a handy tool for men and women to track their weight loss and to stay fit. To start using this template you are required to know few things about yourself. These particular things will include your weight (pounds) in major. Other details required are your chest, waist and hip size in inches. After putting all this information for a particular day the template will do all the rest of work for you. It will calculate your estimated lean body weight, body fat weight, percentage, and BMI. Further sheets are added to represent all data in graphical form. This data is MEASUREMENT, body fat, weight and BMI calculation. We are also adding below few snapshots that will give you a better idea of how to use this template. All sheets previews are also being added using simple nomenclature.
Sheet#1 DATA arrangement
Sheet#2 MEASUREMENTS
Sheet#3 BODY WEIGHT & BMI
Sheet#4 BODY WEIGHT & FAT
---
Fitness and Weight Loss Chart for Men
Preview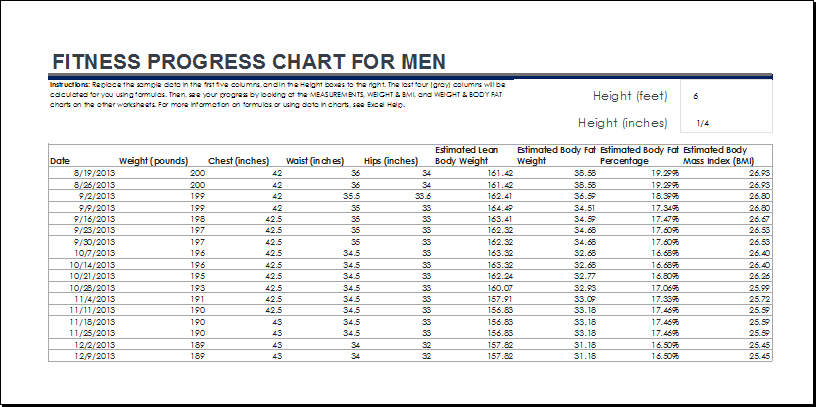 Fitness Progress Chart for Men
Provided by: ENERGY corp.
File Format: Microsoft Excel | Printable | Editable |
Download size: 1237 Kb
---
Fitness and Weight Loss Chart for Women
Preview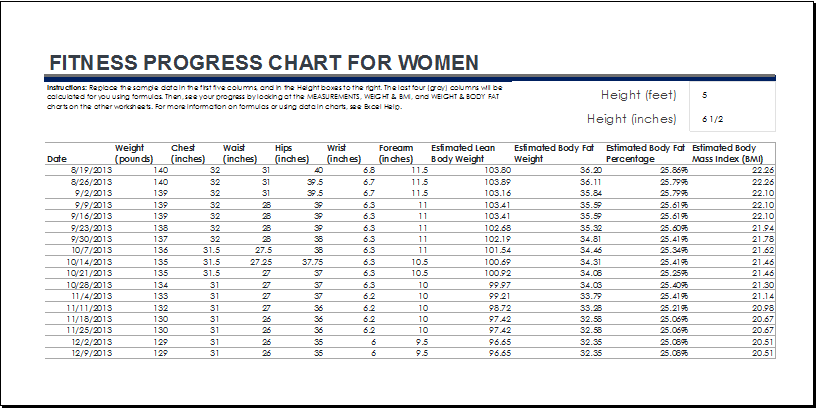 Fitness Progress Chart for Women
Provided by: ENERGY corp.
File Format: Microsoft Excel | Printable | Editable |
Download size: 1157 Kb