The legally binding agreement between two parties which includes the policies and all the conditions is called the construction contract. These all policies and conditions are recorded in the written document. The parties between which the agreement is written are the owner and the contractor. There can be more than one owner or more than one contractor. The agreement about the details and the cost of the construction is very important to write so that a person can know about the cost in advance.
The construction contract can be residential construction contract or the commercial construction contract. Not all the construction contracts are same. The conditions to be added in the contract depend on the requirements of the both parties.
The construction contract has three main parts which are; project scope, payments details and the work schedule. The project scope adds the details about the kind of work to be done. The schedule of the work is also very important factor. It includes the starting and the ending date of the project. The time duration of the project should be clearly mentioned in the contract. The process of quality assurance as well as the inspection will be also written in detail.
The payment detail of project contains the information about the total cost of the project as well as the dates on which the payment will be made. The 5% of the total cost will be paid in advance at the start of the project and it will be also be mentioned in the construction contract.
Preview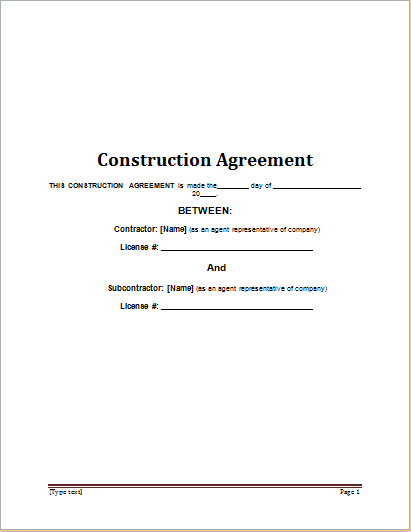 Construction Contract Template
File Size: 44 KB
Download Word (.doc) 2003+