Physical examination is the checkup of the whole body for evaluating the health condition of any person and it is necessary to be done after regular intervals of time to make sure that the person is physically fit. The physical exam form is a great way of getting the details of an individual and the health related issues if any. The details mentioned on the form includes the information of the individual to whom the form belongs, the methods through which the medical examination is done and the medication if the person is diagnosed with any health issue. There are a few other things that are considered important and are mentioned in the form includes health maintenance and recommendations if the doctor seems it necessary.
The form is a record that contains the health information of a person from year to year due to which it is known with the name of yearly physical exam form. It is mandatory to take the form every year to the doctor when there is a need to examining or when the set time of examination comes. Staying fit and taking care of the health is important to accomplish the daily tasks, so consulting a doctor every year is a great idea as the person can live without any worry of health problem by getting the checkup done. There is nothing special in an examination when a person goes it every year, but if there are any concerns then the person can discuss it with the doctor to get satisfied. A good doctor listen the concerns carefully to make the person satisfied.
There are many different ways by which an individual can remain fit and one of them is to get the physical examination done after specific time which eliminates the worries and give a chance to the person to get the treatment before its too late. There are many kinds of health examination form templates available here from which one can select depending on the information that a person can mention on it.
Preview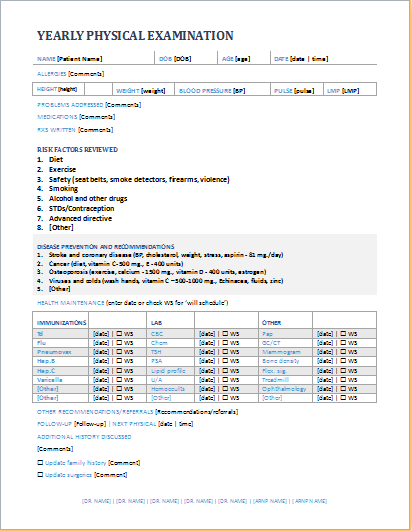 File Size: 108 KB
Download Word (.doc) 2003+