Office space lease agreement is required to be written when you have found an office for running your business. It is very important to draw the office space lease contract in a well way so that the smooth relationship between the tenant and the landlord can be developed.
You can design this office space lease contract when you are going to give your own property on rent to someone or you going to give your commercial property on lease. You can also use this contract when you want to lease the commercial rental property from that landlord who does not possess any lease form.
As a landlord, this contract ensures the person that his property is going in safe hands and that he will get his property back when the agreement will end.  All the basics of the contract such as the amount of rent, the length of the lease agreement etc will be added in the agreement. Some important conditions are also important to be nailed down in the agreement such as how the tenant will be using the office and for what purpose he can use and what are the purposes which are prohibited in that office.
Office space lease contract is a very important contract agreement in the business which can be written down between two parties. As a tenant, such kind of agreement lets you know about the deal and you can easily guess whether you have been treated fairly in the contract or not.
Preview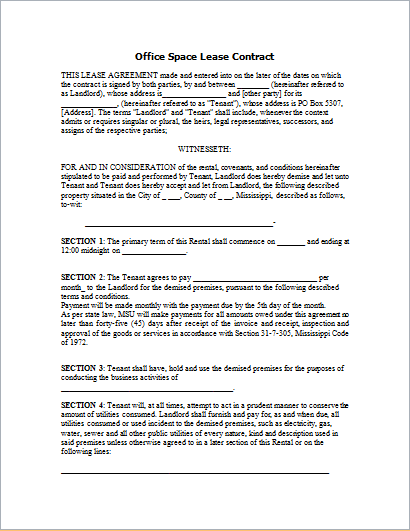 Office Space Lease Agreement Template
File Size: 56 KB
Download Word (.doc) 2003+