Proof of Delivery (POD) is a process to assure the sender that the goods have reached the person it was sent. The receipt is an authoritative document between both the parties which is vital to be exchanged among the receiver and the sender. This receipt is a legal process to verify the receiving of contents.
These financial documents can be sent through the post too but this way is a little doubtful as these documents might get lost or arrive late. This will not create a relationship of trustworthiness and might spoil the business terms. Some companies providing postal services like FedEx, DHL, and UPS are responsible. But in the world of today, many people rely on e-commerce business which is conducted through the electronic media. Different techniques can be used to confirm the delivery of the documents being sent as POD. Emails, FTP, and EDI are the fastest mean of communication that sends the documents including the transaction details, information concerning pay orders, shipping particulars, invoices, price quotes and product specifications. The data can also be exchanged easily and amendments to the previously submitted data can also be made as per the sender's and receiver's will.
Legal complexities are likely to arise only if the recipient company refutes receiving a message or specifications about a corrected item for consumption related to a postponed shipment. However, MOM (Message Oriented Middleware) is a kind of a software that can help in exchanging business document more effectively by giving a proof of delivery by using techniques such as cataloguing each send/receive doings.
Here is a sample of proof of delivery template or one can say delivery receipt template.
Preview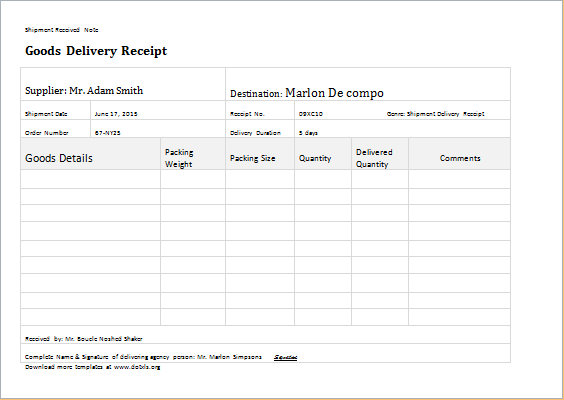 File Size: 108 KB
Download Word (.doc)