Gift Lists
Everyone loves to receive gifts especially if you are a couple who is getting married. As far as this happy moment is about receiving, you also have to show your gratitude to the people who really love you. These people show at your wedding that they have your back and this calls for a thank you letter shipped to them.
In the hassle of the wedding, it is really difficult to maintain a proper list of people who are coming to the wedding or sending you gifts right after invitations are dropped in their mailboxes. To keep the record a list is formulated properly so that not only you send the thank you letter but also you wish to see the details of gift and the sender you just go through that list and collect all the necessary information right away.
Wedding gift list template is a record keeper:
To give you a hand in gift list management we have designed the wedding gift list template. It gives you a very sound arrangement in which jotting down all the information is convenient. Now you don't have to find out pages to jot down the names just a very good template can be used.
The wedding gift list template is simple and very organized. It helps you keep a record in the times when everything needs to be picture perfect and we have helped you in having flawless gift list record keeping technique, so just enjoy the wedding in all high spirits.
---
Preview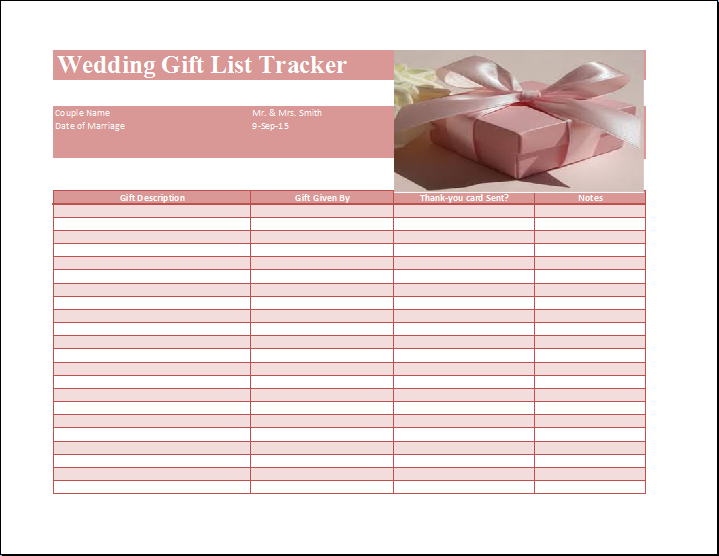 Wedding Gift List
Provided by: ENERGY corp.
Microsoft Excel Format Template | Editable & Printable
Download size: 108  Kb