The price list document is valuable to business who are either involved in retail or cleaning service. It is important to note here that the price lists varies from business to business. Your customers or clients are simply kept aware of the service charges via this sheet in order to enable them to know details of services they are hiring from you.
The price list highlights the business services along with the price mentioned against each service availed. It facilitates the customer to have a look at the detailed breakdown of the services along with service charges.
Key factors to be mentioned
Company Name: The essential part of the document is mentioning your company name so as to make people in general aware of the business offering the service. To be more professional the company logo can also be mentioned.
Price and Quantity: Price is of great concern for any customer. Mentioning the price not only eases the service provider but also the client as well. By viewing the price scale customer easily makes his/her decision on whether he/she is willing to take the service or not. Prices here are mentioned separately for each cleaning service provided. The number of hours and timings for the service avails is also mentioned.
Important Note: This very field is included in the template to inform the customers in advance regarding any business activity. It helps create a trustworthy relationship. Written facts are now of more value than verbal.
Total Amount of Cleaning Service: It is a customer's right to know the exact charges of services him/she has availed from a certain business as to avoid any confusion which might arise in future. Being clear from the start helps build a better customer relationship.
Why Use this Template?
Gone were the days when people used to enter information manually. Today there is a lot more advanced. Using a customized application rather than manual has eased the flow of work and help create professionalism.  The template allows business to modify information in an organized manner rather than creating a hassle. It saves time too. Businesses can easily define their prices minimizing the rate of error. The print button allows you to keep several copies as to maintain a record of business activities.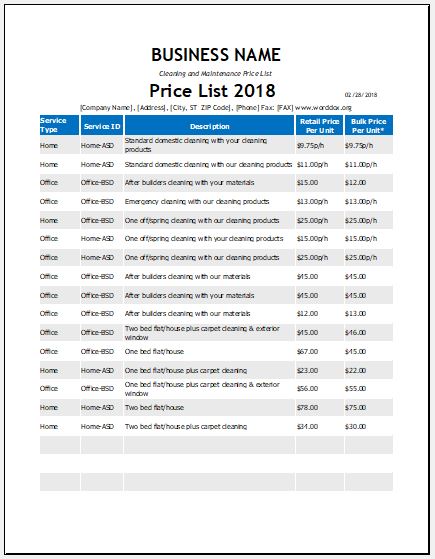 Size: 56 KB | Download