What is Staff Holiday Planner?
Tracking the record of the employee's holidays is possible with the aid of an official document, named Staff Holiday Planner. The staff holiday planner is a significant document which contains the details of the holidays of all the employees working in an organization.
Company Details:
The staff holiday planner can be customized as per company's requirement. The professional way of using a document is to personalize it by mentioning the name of the company and the logo of it. It provides an identity to the document that the document belongs to the company.
Absence Type Key:
The nature of holiday or leave varies from individual to individual. It can be training leave, sick leave, off-site days, casual leave, maternity or paternity leave etc. The absence type key mentions the type of leave and contains a peculiar alphabet and color for each type. It eases to mention the leave in the spreadsheet and aids in rapid tracking.
Employee Details:
All the employees working in an organization are mentioned in the planner. The details include the name of the employee and the leaves taken by him/her. All leaves are mentioned in correspondence to the date.
Date of Absence:
Sheet contains all the days of a month. There exists start holiday planner for each year. The company can collect the data from this document and use it when required. The date of absence is mentioned for all the leaves taken. In addition to this, the total number of leave days are mentioned too for making the document more effective and professional.
Start Holiday Planner in Excel Format:
One can easily get the access to the start holiday planner by simply downloading it from here. We believe in to design the holiday planner having all the mandatory elements in it.
.Xls file format: Fill all details regarding the holidays in the spreadsheet.
Easily printable: Get the prints after filling the details in it.
Blank sample: Use it when required.
User-friendly design: This professional document contains all mandatory fields in it.
Fully customizable: Edit it according to the need of company and policies.
Preview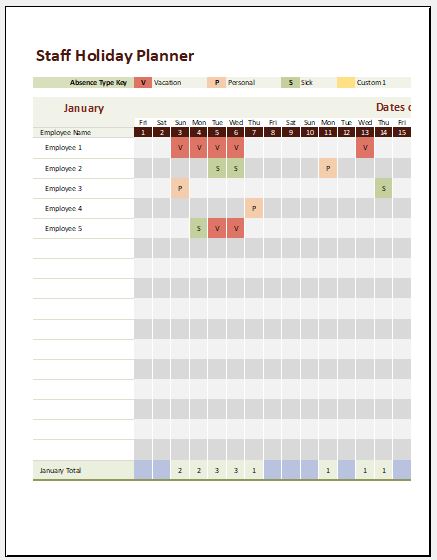 MS Word | Download