Those businesses who charge their services on an hourly basis should keep their hands on the hourly service invoice. Using hourly service invoice is of great concern in this regard and leaves a great impression on the client. It indicates professionalism too.
The need for hourly service invoice:
A person or company requires sending an hourly invoice in order to demand payment for the services provided to a client on an hourly basis. After completing the work the invoice is sent to the client. Hence, the client comes to know about the amount he has to pay. Mention the price that you charged for each service.
Elements of hourly service invoice:
Some elements are the mandatory part of this hourly service invoice. These include the name of the company or business which provide the services to the people. In case of an individual who is offering his service, the name of the service provider needs to be mentioned. Mention the details of the person such as complete name and his contact details.
In addition to this, enlist all the services taken by the client. Mention price for each service. At the bottom, write down the charges of all the services as a whole. In order to get paid rapidly, do mention the payment instructions along with the expected deadline. The details of bank or PayPal account needs to be entered in the invoice so that the clients transfer the funds to the given account. Other points that need to be mentioned are discounts and applicable tax amount.
Some companies provide the discount on their services. If you offer any discount then mention it on the invoice.
Is it necessary to send an invoice every time?
It is a professional way to send the invoice every time the services are hired by you. It helps to maintain and keep the record of all the invoices that can be used as a reference later on. This is beneficial for the financial records too. It makes it quite easier to calculate and compare the growth of your business with each passing month or year.
Preview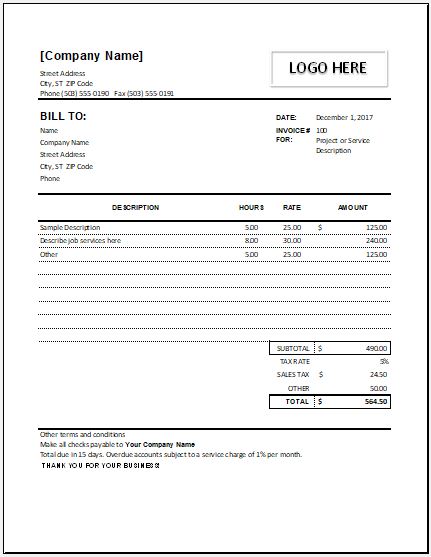 Format Excel .xls | Download