Meeting new people and having a conversation with the customers is the key to success for any business. There can be lots of visitors each day. Some of those visits are planned while some are totally unplanned. You may have to conduct several types of meetings and sessions with your clients and customers each day.
What is visitor log book?
The visitor log book is such a document which is used to keep track of all the visitors each day. This log is very beneficial for a business since it helps a business in keeping a record of the visitors.
Benefits of visitors log book?
With the help of this log, you can easily keep track of all the previous meetings that have been conducted in past. Moreover, the meetings to be held in future are also tracked and managed with the help of this log.
The visitor logbook is one of the most versatile and interactive log books which is helpful for storing all the information about the visitors.
You can retrieve the information about the particular visitor easily through it.
Many organizations also collect the information for security reasons. Keeping track of all the visitors each day enables the organization to filter the visitors so that only legitimate people can visit.
This log book can efficiently keep the information such as date of each visit, time, contact details, the purpose of visiting and a lot more.
For example, a visitor log book can be used in a school. It generally records the visits of parents and other outsiders who come to the administrative office. When someone enters the company, he is required to provide his details at the reception which entered in the visitor's log book.
Key elements of log book for visitors:
Key elements of this log are:
Date of visit
The name of visitor
Company name
Reason for visit
Time in
Sign in
Timeout
Sign out
Depending on your own business needs, you can also add additional details in the log.
Template Preview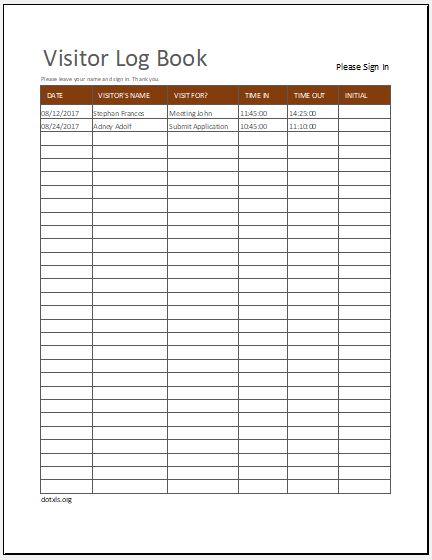 [.xls] | Download
Template Preview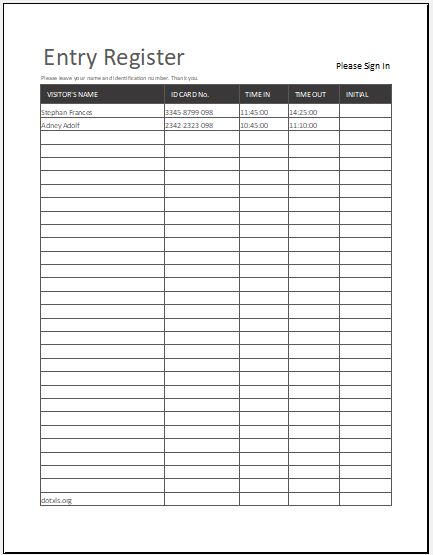 [.xls] | Download