Meeting new people and having a conversation with the customers is the key to success for any business. There can be lots of visitors each day. Some of those visits are planned while some are totally unplanned. You may have to conduct several types of meetings and sessions with your clients and customers each day.
What is a visitor logbook?
A visitor logbook is a document that is used to keep track of all the visitors each day. This document is very beneficial for a business since it helps a business in keeping a record of the visitors.
Logbooks are used to keep records of data that they analyzed critically to make inferences. These logbooks are being used almost everywhere to keep a track of essentials. Logbooks have proved their significance in hotels, schools, restaurants, students, teachers, businesses as well as companies. Its fandom is largely based on its flexibility and organized manner.
The visitor logbook refers to the document that records the visiting i.e. coming in and going out of visitors at any establishment or venue etc. Visitor logbooks find their applications in all sorts of places i.e., restaurants, hotels, rented apartments, schools, hospitals, and old homes. There are several benefits of using these logbooks but the most important is to provide security to definite premises.
Visitor logbooks are simple and organized and are used vastly because of their popularity. They can incorporate large amounts of data and a single logbook can be used for a very long time.
Important Features
A visitors' logbook is usually a hard copy ledger that is found in reception at many places. It is required for every visitor to mention their details without even asking. Some of the key features of a visitor logbook are given below,
The date of the following day is mentioned first to make sure that it is the correct date.
The name of the visitor is mentioned after the date to collect related information.
Incoming as well as outgoing time of visitors is recorded.
The purpose of the visit is also mentioned to create the whole scenario.
The name of the person whom the visitor is meeting is also recorded to make sure that person resides in the building and is known.
Contact information of visitors as well as host is mentioned so that they can be immediately contacted in case of emergency.
Visitors are required to submit their CNIC or any other important document as proof which can be returned while they are leaving.
These logbooks can be maintained as a soft copy as well but they are mostly in a document form and are kept safe for a short period of time. These log books are comprised of many columns and each column represents the above-mentioned category. Data is entered upon the arrival of a visitor and is mostly filled in by the receptionist to clear doubts about the visitor.
Significance of the worksheet
Visitor logbooks are now considered a necessity in every residential and business area because of the following reasons,
It provides security to the locals from outsiders because every visitor enters their information at the reception.
In case of theft or emergency, visitors can be held accountable due to doubts.
Recording the arrival and departure timings of visitors to make sure that visitor has left the premises
Documents required as proof can limit visitors to avoid any unlawful activity on the premises.
These records can be used to know the whereabouts of people required for criminal activities.
These can be used as a reference in case of court and law activities.
Logbook data can be used as evidence in a court of law.
The visitor logbook can be customized to add more information about the visitor.
What are the benefits of visitors' logbooks?
With the help of this log, you can easily keep track of all the previous meetings that have been conducted in past. Moreover, the meetings to be held in the future are also tracked and managed with the help of this log.
The visitor logbook is one of the most versatile and interactive logbooks which is helpful for storing all the information about the visitors.
You can retrieve information about the particular visitor easily through it.
Many organizations also collect information for security reasons. Keeping track of all the visitors each day enables the organization to filter the visitors so that only legitimate people can visit.
This logbook can efficiently keep information such as the date of each visit, time, contact details, the purpose of visiting, and a lot more.
For example, a visitor logbook can be used in a school. It generally records the visits of parents and other outsiders who come to the administrative office. When someone enters the company, he is required to provide his details at the reception which is entered in the visitor's logbook.
Key elements of the logbook for visitors:
Key elements of this log are:
Date of visit
The name of the visitor
Company name
Reason for visit
Time in
Sign in
Timeout
Sign out
Depending on your own business needs, you can also add additional details to the log.
Template Preview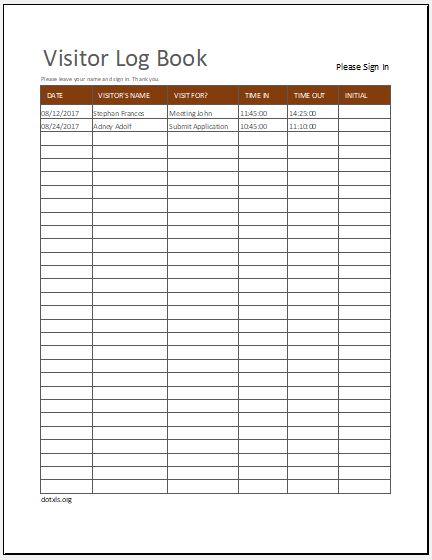 Template Preview