Jobs have become a necessity of our lives these days. Men and women work full time due to which they are not able to look after their houses well. Maintaining a house is very important for living a peaceful life. No one wants to live in a dirty and messy house. Keeping a maid has become an essential thing in this day and age.
Individual women are to be seen providing these services. But with the advent and progression of fashion, some firms also provide maids. The maids these days are not the ordinary maids who are working just to earn money. Rather, firms providing maids would properly train them to look after a household in a professional manner. The maids are trained to ensure health and cleaning standards by maintaining their own personal hygiene.
Before a firm can provide their customers with a maid, they would run a proper security check on them to make sure that they are safe to work in homes.
Maintaining an invoice for maid service is very important. It can come in handy in case of a dispute over payments. The maid might not be providing all the services and work with some specific areas. The maids can be paid on an hourly rate or may be paid on monthly basis. But most of the maids are paid on hourly rates.
The invoice would contain the contact details of the customer as well as the service provider. The detailed description of the services provided will be mentioned on the invoice which makes it easy to calculate the wages.
The payment terms are mentioned on the invoice which makes it easy for the customer to schedule their payments.
Preview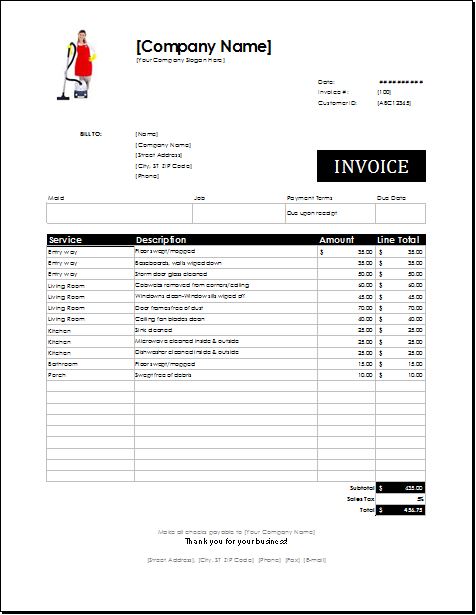 [MS Excel Format: File Size: 72 KB]